So Taguchi Bat Day
- Bat day is always one of the best giveaways of the season. This season though, the Phil might have made a mistake. On July 24th, all fans 14 and under will receive a So Taguchi Model Louisville Slugger. This bat, modeled after the one Taguchi used all season long, has a tapered black handle but no barrel. When asked about using a bat with no barrel, Taguchi said, "Bat light. Easy to swing. Get through strike zone very quick. I get around on fastball. And I never break bat...so I have that going for me, which is nice."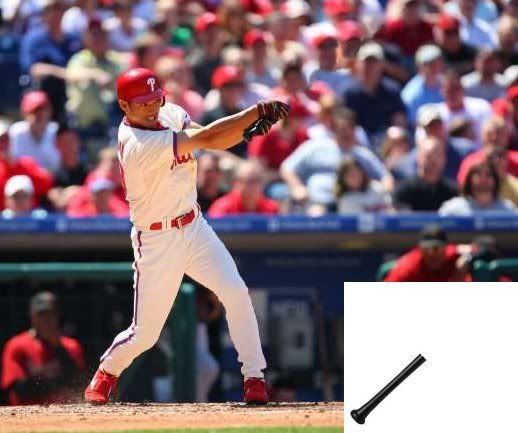 Utley Soap-on-a-Rope
- The majority of fans had no problem with potty-mouthed Chase Utley's
premeditated
spontaneous act of impulsive vulgarity. Then there are a minority of
stupid fucks
concernced citizens that wrote complaints such as, "Is there no platform that is sacred anymore?" or "How am I to explain such profanity to my child?" Hopefully all of these rightous morons show up August 20th against the D-backs when the Phils will hand out a "Chase Utley Soap-on-a-Rope" to all fans. So much soap will be handed out, all of the mouths in the Delaware Valley will be able to be washed out.
Greg Dobbs Pinch-Hit Sweepstakes
- Last season, Greg Dobbs broke the single season Phillies record for most pinch hits in a season. But Dobb's subsitition capabilities are not limited to the field, and he's going to prove it to one lucky fan. The winner of a random drawing during the Braves game on August 28th will receive the "pinch hit" services of Greg Dobbs for one day next offseason. Does the wife want to go shopping for new furniture during an Eagles game? It it your anniversary but you'd rather sit at home, watch an old John Wayne movie, eat Doritos and get drunk? Is your wife going into labor and you don't really need to see that again? If you are the lucky winner, you can pick up the phone, tell Dobbs to loosen up and sit back and enjoy a pounder of Old Milwaukee as he takes care of all the crap you don't want to do that day. [Disclaimer: The Phillies assume no responsability if your wife likes Greg Dobbs better than you.]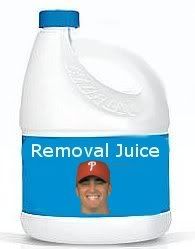 Brett Myers Tattoo Removal Kit
- I know there are some of you out there running around with bad tattoos - a tribal armband, a ladybug on your foot, a butterfly anywhere, any form of tramp stamp, an ex-wife's name or like Brett, a tribal wristband. But you're in luck, on September 3rd against the Giants, the Phillies will be handing out a "Brett Myers Tattoo Removal Kit" to all fans over 12 with a bad tattoo. The kit includes one gallon of "removal juice" (bleach), four sheets of "scrubbing pads" (low grit sandpaper), triple antibiotic ointment and three days worth of Advil.
Bobby Cox Talking Bottle Opener
- On September 28th against the Astros, all fans 21 and over or with a college ID will receive the "Bobby Cox Talking Bottle Opener." Why would the Phils give away a product with the manager of a rival team on it? It's because when this bottle opener is used to crack open a cold one, it plays an audio clip from one of the most amusing and relatively common occurances of a Phillies-Braves game - Bobby Cox getting thrown out of the game. The following is a transcript of the audio clip:
Umpire
- Ball four
Cox
- That's a f****** strike.
Umpire
- Enough Cox.
Cox
- You're a f****** moron.
Umpire
- That's it. You're outta here.
Cox
- F*** you! I'm going home to domestically abuse my spouse.
Corey