A few of the Phillies batters have decided to change their into music for this season. WSBGM's was lucky enough to learn of these changes ahead of time.
Pedro Feliz
- The freeswinging Feliz doesn't want a base on balls. He wants a three run homer and he's willing to sacrifice a few dozen double-plays to get one. And you don't hit homers by taking pitches. So, Feliz will stroll to the plate this year to "Walk" by Pantera.
"...Walk. What did you say?
...Walk. Are you talking to me?"
Chase Utley
- From "Boo F You" to "WFC," Utley doesn't want to hear your opinions on foul language. And he'll let you know with every at-bat as "Censorshit" by the Ramones will be played.
"Hey hey all you all you senator's wives
Better take a good look at your own lives
Before you go preach to me
Your definition of obscenity"
Jimmy Rollins
- "Team to beat." "100 wins." That's cool, but now the Phils are WFC and Rollins doesn't have to do any talking anymore. He can just point to the ring. Rollins' intro music this season will be "Nothing to Prove" by New York punk band H2O.
"Me and all my friends we got nothing to prove, nothing to lose."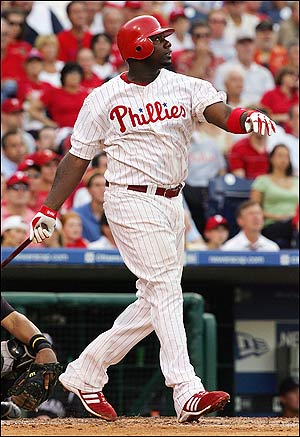 Ryan Howard
- Howard signed a nice new contract. He can hit homers. But the fielding...is still a question. So this year, Howard's theme song will be a unique take on a Beatles classic, "Can't Buy Me Glove".
"I'll hit you a three run homer my friend if it makes you feel alright
I'll knock you in from third my friend if it makes you feel alright
But I don't care too much for money, cause money can't buy me glove."
Shane Victorino
- As thefightins.com and their
terrific t-shirt designs
have documented, the Flyin' Hawaiian has a knack for giving a great interview. This year though, he can let is intro music do the talking for him, as he will come out to "No Questions Asked" by Fleetwood Mac.
"Night after night
No questions asked"
Corey