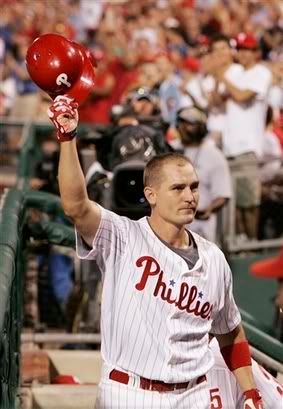 I stumbled upon MLB.com's Fantasy Preview the other day, so I decided to see what they had to say about the Phillies. What I found was a mix of misinformation, baseless speculation, and idiocy. Basically, a bloggers dream! So, I decided I would reprint their "one liners" about each player and then a little critique of my own. Enjoy.
Chris Coste - Will see plenty of time vs. lefties. - Ranked ahead of Ruiz for catchers. Sure, if you ignore that fact that he may be traded or designated for assignment.
Carlos Ruiz - Disappointing '08 campaign results in '09 timeshare. - Cooch has always shared time, but I think his '08 campaign, post season especially, will earn him equal or increased playing time.
Ronny Paulino - Likely headed for third-string role. - Who cares where he's headed, he's useless on a fantasy team.
Shane Victorino - Speedster bordering on five-category studliness. - Studliness? Who's writing this, Paris Hilton? TJ Simers? Chris Wheeler?
Raul Ibanez - Steady vet moves to cozy Citizens Bank Park - Blankets and slippers are "cozy." The Cit full of a bunch of fans who are pissed you're replacing a legend is far from "cozy."
Jayson Werth - Multi-talented OF no longer found in bargain bin - His mom is hot.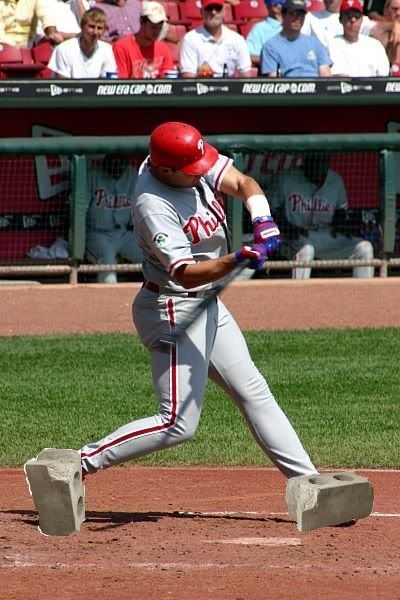 Pat Burrell - Power numbers shouldn't decline much with new team - [Single tear...] I can't quit you, Burrell.
Geoff Jenkins - Veteran limited to backup duty with Phils - Fantasy Value=0. Real life value=~$7million. I'd take that gig.
Matt Stairs - Entering twilight of career at 40 - Entered "twilight of career" about 10 years ago.
John Mayberry - Young slugger likely ticketed for Triple-A - Was it even necessary to include Mayberry on this list? Where's Dominic Brown? Or Rob Ducey?
Pedro Feliz - Strong glove doesn't help fantasy value - Unless you play at AbeNunezFantasyBaseball.com
Greg Dobbs - Lengthy Pedro Feliz slump could lead to more PT - Sideburns don't help fantasy value. They should. But they don't.
Eric Bruntlett - Versatility doesn't offset low AVG. - Or low HR, or low RBI...should have read, "Won't steal runs from Burrell anymore."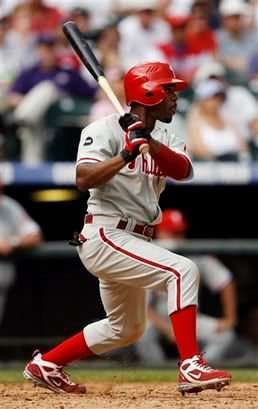 Jimmy Rollins - Terrific value even without MVP-caliber numbers - Agreed. No pithy comment to make here.
Chase Utley - Value hurt slightly by questionable health. - Hip problems shouldn't hurt fantasy numbers. Right? At least, that's what Albert Belle yelled at me once.
Ryan Howard - Bank on massive HR, RBI totals. - "Citzen's Bank" on those totals. Zing!
Brad Lidge - Won't be perfect again, but he's finally consistent. - I think he meant to say, "Phinally consistent."
Ryan Madson - Showed intriguing stuff late in '08. - You mean, like transforming magically into the second coming of Mariano Rivera? Yeah, I'd call that intriguing.
Cole Hamels - Magical year doesn't wipe away injury record. - Umm, yes it does. They are WFC!!!!!
Brett Myers - Ready to reclaim workhorse credibility. - Already has jackass credibility on resume.
Joe Blanton - Showed little improvement in NL - Oakland record was 5-12. Philadelphia record was 7-0, with three of those in the post season. That's a little more than little.
Jamie Moyer - Road starts bring out best in ageless one - Maybe the Phils should go with a six man rotation and pitch Moyer only on the road. It would save them some money in performance bonuses.
Adam Eaton - Needs trade from homer-friendly home park. - Or the Phillies can erect 40 feet high walls and let Eaton pitch from Little League distance, which is a more likely scenario to occur than Eaton going to a different team and being successful.
Corey