The days when the Phillies didn't spend money are over.
David Murphy estimates
that the Phils' payroll will be in the $130 million range. They've finally taken their proper payroll position, sitting with or right behind some of the top spenders in baseball like New York (NL), Boston, LA, and Chicago.
Now, to make sure this isn't a fluke, once in a century type splurge, we as fans need to do our part to make sure that revenue continues to flow into the club. We have to continue going to games, buying overpriced beers and pretzels, and purchasing replica jerseys and other memorabilia. But since the Phillies are spending more, we have to do more. I've come up with a few ideas to create a little extra revenue.
1)
Stock Sale
- I always feel weird when I write things like "We need to win this game" or "We need to sign a lefty for the pen." I'm not a player. I'm not the general manager. I'm not part of the team in any way. But if the Phillies sold some stock, and I became a shareholder, I could "we, we, we" all the way home. (Sorry, one too many games of "this little piggy" recently...)
Currently, the Green Bay Packers are the only community owned team and I'm not stupid enough to think the Phillies would actually make themselves a publicly owned company, but a ceremonial sale of stock shouldn't be out of the question. Every twenty years or so, they could create 10,000 individual shares and sell them for $100-200 bucks apiece. Each "shareholder" would receive an individually numbered stock certificate to proudly display. No actual ownership. No dividends. No investment potential whatsoever. But you could say you own a small part of the team.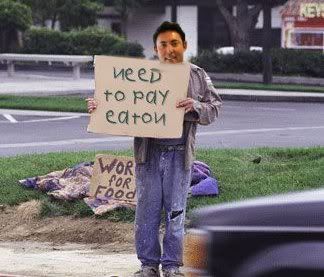 2)
Car Wash
- Sororities do this all the time to make money. The usual format is simple: put some attractive girl out on the corner in a skimpy outfit holding a sign for a "car wash" then have far less attractive girls in equally skimpy outfits actually washing the cars. The attractive one gets them in, then the ugly one's scare them away quickly so you don't have to use much soap or water, thereby lowering overhead. I say the Phillies take this "bait and switch" model a little further, and set up a "Philly Style Car Wash." Have players and coaches stand at traffic lights and when a car pulls up, they spray the windshield with a bottle filled with whatever liquid has pooled near the gutter and then wipe it off with an old rag that also was found in the gutter. They then go up to the driver's side window, pound their fist on it twice and hold out a tin can. I'd give Mike Zagurski 10 bucks if he cleaned my window. Zero overhead, all profit.
3)
Dunk Tank
- You set the tank up next week right beside that big clothespin in Center City. You fill the tank with ice water. You charge $10 a throw. And you somehow convince Adam Eaton, Abraham Nunez, and David Bell to rotate in the dunk seat. I guarantee their will be hundreds, maybe thousands, of fans "making it rain" in an attempt to exact some symbolic revenge.
4)
Raffle
- Every week, the Phils should run a raffle. Tickets would cost 5 bucks each and could be bought at the stadium or online. Then each Monday they announce the winning number with the prizes being things like:
- Watching a game from the press booth
- Throwing out the first pitch
- Bringing the lineup card out to the umps before the game
- A framed lineup card from the game
- "Groundskeeper For A Day"
- Announcing the players coming to bat for one inning
- A private tour of the clubhouse
- A game used bat or jersey
They would need about 30 prizes a season, none of which would cost the team more than few dollars, if anything at all. I say they could get 25 thousand entries a week, thus pulling in about a half million dollars a month, which is almost enough to pay half of Adam Eaton's 2009 salary...
These are just some of my ideas, I have a ton more. So if anybody from the Phillies is reading this, holla at your boy, let's make some money.
Corey