WSBGM's got on the phone yesterday and talked to a few of WFC Phillies with one simple question, "What is your resolution for 2009?" Here are a few of the answers we got.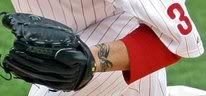 Brett Myers
- "I'm going to wear more long sleeved shirts. I have to do something to hide my wrist tattoo."
Carlos Ruiz
- "Like Cher, Madonna, and Prince, I'm going to become a one name phenomenon. Look out 2009, here comes "Cooch."
Pedro Feliz
- "I'm going to make a better effort to hit the ball the other way this year. I haven't hit into nearly as many 4-6-3 double plays as I have 6-4-3..."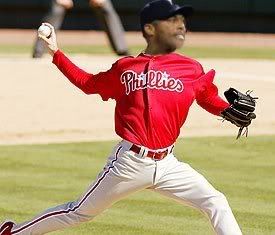 Ryan Madson
- "Since I already pitch like Mariano Rivera, in 2009 I'm going to try to look like Mariano too."
Ryan Howard
- "You guys did a great job with the "K Watch" last year, but I feel that I let you down by stopping at 199. So in 2009 I'm going to redeem myself. I'm guaranteeing a strikeout record...or at least I'll hit the 200 mark."
Cole Hamels
- "I resolve to make more money."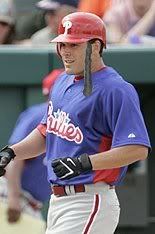 Greg Dobbs
- "I'm on my way to Brooklyn New York to study with a few guys that I understand are sideburns experts, because my goal in 2009 is to grow the longest sideburns that I can. Guinness World Record? We'll see."
Raul Ibanez
- "I want to make a good impression on my new teammates and fit in with the club as much as I can. So, in '09 I will try to score as much tail as possible. I understand that is what the left fielder for the Phillies is supposed to do."
Corey