The first mentionable rumor involving the Phillies came up yesterday, when Paul Hagen of the Daily News reported that the Phils have been kicking the tires on outfielder Delmon Young. Let's break down a possible Delmon Young trade.
Offense
- Young has 353 hits (66 doubles) in two full seasons and he just turned 23 years old. His potential is unlimited...possibly. He has shown the ability to hit, but not with power. He has only 23 homers in the last two seasons. Young hit 51 homers in his two minor league seasons, so there is hope for developing a more powerful bat. However, 1200 at-bats is usually a pretty good sample size, so don't bet the farm he'll start hitting homers even in the friendly confines of The Cit. He also doesn't walk much, and has put up poor on-base numbers despite hitting for a high average.
Salary
- Young is cheap. The Phils could fill there outfield vacancy for only a few hundred grand. Also, he only has two years of service time, so he would be under arbitration control for few more years.
Drama
- He throws bats at umpires. He's described as "hardheaded and uncoachable" by David Murphy on his blog. Tampa got rid of him after only one full major league season and Minnesota may be willing to part with him now too. He doesn't sound like the kind of guy the Phils would want. But then again, who doesn't love a little drama? Remember T.O.? Remember how much fun that was? And even if he does act up a little, the Phils have such solid veteran leadership and good clubhouse guys that they may be able to keep a guy like Young in check. And he's had one uneventful year in Minnesota, maybe he's "turned the corner."
Price Tag
- This rumor is still in it's infancy, but the name Jason Donald has already been thrown out there. The Twins gave up front line starter Matt Garza to get Young, so I expect they would want a lot more than just Jason Donald.
Conclusion
- Rumors like this are fun, but I don't see it having a very long shelf life. Young has great potential but his troubled past and high price tag don't make him a great fit for the "WFC."
--------------------------
Jamie Moyer Update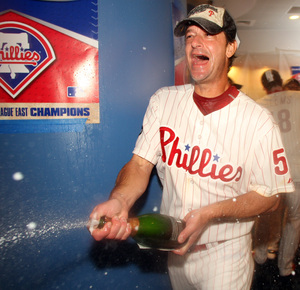 Ken Rosenthal was on Daily News Live last night and indicated that the Phils and Moyer may be close to agreeing to a deal like many of us have assumed. Rosenthal said Moyer is seeking a two year deal at $10+ million per year. The Phillies reportedly are only willing to give Moyer one year but pay him close to $10 million.
Now, if this report is close to the truth, it becomes even more odd that the Phillies didn't offer him arbitration. If Moyer would have accepted, he would have been given one year at approximately $10 million, which is exactly what the Phils are reportedly offering. If he walks, the Phils don't even get draft picks now...
Corey