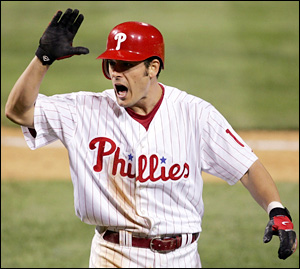 Greg Dobbs
Review:
Dobbs had an absolute great season for the '08 Fightins. He put up solid numbers, .301-9-40, with his greatest contributions coming off of the bench and late in games. Dobbs was a true threat off of the bench, breaking the Phillies all-time record for pinch-hits in a season.
Memorable Moment:
I can't think of anything. A little help...
And a little help I got. Thanks to reader Maria who remembered
this Dobbs moment
from July.
Preview:
Dobbs only made $440k last season and is set for arbitration, making him one of the best bargains on the team. His role for 2009 Phillies should be very similar to last season. He will be the number one pinch-hitter and see some time at third against tough righties.
However, if the Phils don't re-sign Burrell and go with a cheaper option like Rocco Baldelli, Dobbs could see less of the bench and more of the outfield, working a four-man platoon with Werth and Jenkins.
-------------------------
Eric Bruntlett
Review:
Everyone will remember Bruntlett for scoring the winning run in games three and five (see below) but the fact is, Bruntlett had a rough year. Bruntlett was on the team to provide depth at multiple position and not to hit, but he managed a only a meager .217-2-15 (although he did pilfer 37 runs from Pat Burrell...) He did a great job pinch-running in the playoffs, but he didn't provide anything above what an average AAA utility player could.
Memorable Moment:
Preview:
Bruntlett made $600k last year and is elibible for arbitration. The price and availability may make him attractive to Ruben Amaro, so I think there is a real good chance Bruntlett is back next year. I would prefer a better option at the utility spot (a guy like Nick Punto would be optimal), but the team has to save money somewhere and this is as good a place as any. However, if the Phils don't replace So Taguchi with a decent right-handed bat and keep Matt Stairs in his place, then they will have to spend some cash and replace Bruntlett with a more productive RH bat.
-------------------------
Geoff Jenkins
Review:
In the five seasons prior to joining the Phillies, Jenkins hit at least .255 and knocked in at least 64 runs. In fact he hit .290 and knocked in 90 in two seasons. He hit 21 or more homers in four of the seasons also. Last year, his line was .246-9-29 with an OPS of .694, his lowest since his rookie year. To say that Jenkins' season was a disappointment is a Sabathia-sized understatement. He lost his platoon spot to Werth, who despite being atrocious against righties, was still a better option than Jenkins.
Memorable Moment: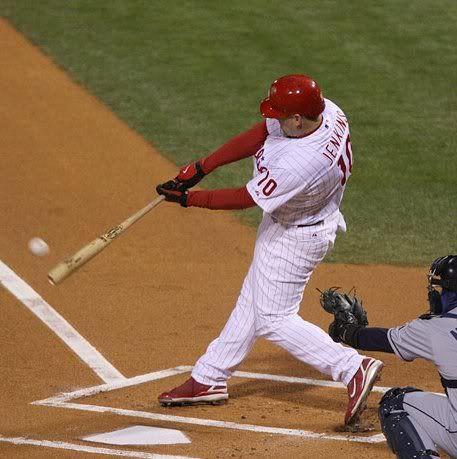 And thank goodness Jenkins hit that double in Game 5.5, because otherwise his "Memorable Moment" was
hurting himself
with his own broken bat.
Preview:
Jenkins is in the final year of a two year, $13 million dollar deal. The Phils payroll is going up due to lots of valuable, arbitration eligible players, Matt Holiday is going to Oakland, and Pat Burrell may not be signed. That all adds up to needing Geoff Jenkins to contribute to the '09 Phils. Like I said in the Dobb's preview above, I see the Phils signing a mid-level righthanded hitting outfielder and using that signing, Werth, Jenkins and a little bit of Dobbs in a rotation for the corner outfield spots.
-------------------------
Brad Lidge
Review:
48 for 48.
Memorable Moment:
Preview:
The Phils locked up Lidge with a multi-year dear in the middle of last season, so he will look to continue his perfect save record next Spring.
Corey