Carlos "Cooch" Ruiz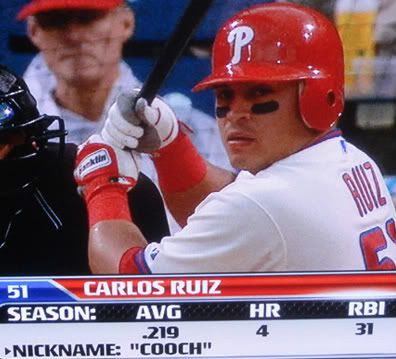 Review:
No one doubts the defensive skill of Carlos Ruiz. His offense, on the other hand...For much of the 2008 season, things didn't go so well offensively for "Cooch." In July, Carson called Ruiz "the new David Bell" and Chris Coste was doing a lot of the catching. His final line reflects his season long struggles - .219-4-31.
Then, the playoffs came. He didn't hit against Milwaukee (1-14) but the Phils won three of four and Manuel kept playing him, citing the recent success of the club and Ruiz's defensive attributes. What a good move by Manuel, because Ruiz hit .313 in the NLCS and .375 in the World Series including a homer and, his most memorable moment of the season, the first World Series walk-off hit in Phillies history.
Preview:
Everyone is hoping Ruiz can carry some of his playoff success into the 2009 season. But even if he hits .220 again, Ruiz will be the Phils number one catcher and play 120 games. He is not arbitration eligible and will make a little more than the 425K he made in 2008. Like Roger Daltry would say, "I'd call that a bargain."
--------------------------
Chase Utley
Review:
Utley started 2008 like a house on fire, jacking 18 round-trippers in the first two months of season. At the All Star break, Utley was the leading candidate for MVP. However, his power surge didn't continue and he only hit eight homers after the break. In the end, Utley provided the solid, All Star numbers we all expected - .292-33-104.
In the postseason, Utley only managed a .220 average and only three hits in the World Series. Of course, two of those three hits were homers in games the Phils won by a single run. So, we'll give Utley a pass on the average…
Memorable Moment:
I was going to say dropping the F-bomb at the All Star game, the homer in Game 1 of the World Series or his slick defensive play to get Iwamura at home in Game 5.5, but in the end, those moments don't F-ing compare to this:
Preview:
I doubt he gets challenged for playing time in 2009, unless the Phils resign Mickey Morandini. He'll make a deserved $11 million.
--------------------------
Chad Durbin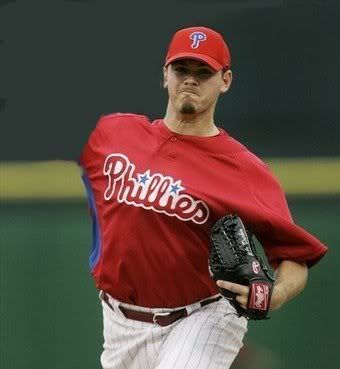 Review:
It was a tale of three seasons for Durbin. For the first 3/4 of a season, Durbin was fantastic. Through July, his ERA was under two and was locking down the late innings in front of Lidge. Then, his arm fell off. Durbin had never had more than 36 appearances in a season before 2008. He had pitched more innings, but as a starter, which isn't comparable. The fatigue resulted in an August ERA of over 4 that was followed by an ERA of almost 7 the rest of the way.
Success returned for his third season, the playoffs. After Sept. 27, Durbin only pitched in three games. The extended rest obviously helped because he recorded a win in each of those appearances, one in each playoff series, giving up only a run in 3.1 innings.
Preview:
Forget penciling in Durbin for the 2009 Phillies bullpen, you can break out one of those giant permanent black markers to do so. Durbin made a Costco-worthy $900k in 2008. He is eligible for arbitration this season and I don't see the Phils trying to lock him up for multiple years like they did with Romero and Lidge. They'll go year by year with Durbin. He should see lots of 7th inning in 2009, though...at least until his arm falls off.
--------------------------
Rudy Seanez
Review:
Seanez appeared in 42 games for the Phils and had a respectable 3.53 ERA. However, the majority of his positive contributions came in the first half of the season, when he posted a 2.40 ERA. The second half saw his ERA balloon to 6.08. He did not see any post-season action.
Preview:
The Phils
got value
from the $400k they paid Rudy, but they won't press their luck in '09 with the 40 year old reliever. Adios, Seanez.
Corey