Jamie Moyer
Review:
I doubt that anyone predicted 16-7 and 3.71 for Moyer's 2008 season. Luckily for the Phils, as Eaton, Kendrick and Myers struggled, Moyer outperformed all expectations and turned in a #2 starter-worthy season. His season was so good, I won't even bring up that NLCS start against the Dodgers…
Memorable Moment: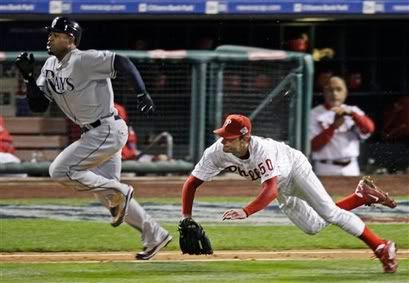 Best Unused Material:
I made two pictures of Jamie Moyer that I never got to use. One was a Gene Simmons pic that I did after Moyer walked off of the mound in the World Series with this tongue hanging out. The other was for a "Gilligan's's Island" parody song that I wrote and was going to use if the Phils had won Moyer's game three start against the Dodgers. They lost of course, so the parody and the pic never got used. So, here are those now useless pics.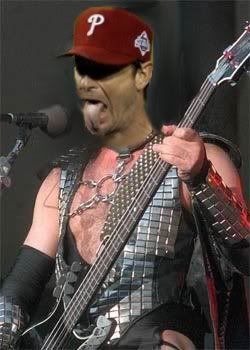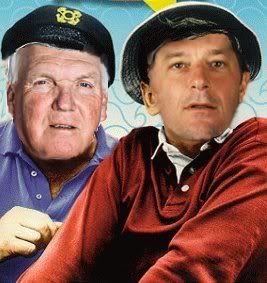 Preview:
Moyer is going to be 67 years old at the start of the 2009 season, but he shows no signs of slowing down. From Yahoo!: "in early conversations with Moyer's agent, Phillies GM Ruben Amaro Jr. has been told that Moyer is seeking a multiyear contract."
Moyer has started at least 32 games and pitched at least 196 innings in each of the last eight years, and there is no reason to think he can't continue to do that for another two years. Well, except that he's 74 year old. But other than that, no reason at all. Moyer made $5.5 million last year and I think he'll come back to the Phils for two years and $12 million.
--------------------------
Jimmy Rollins
Review:
He said they were the team to beat. He predicted 100 wins. Then he got injured. The he flirted with Mendoza in June. Then he didn't hustle. Then he showed up late.Then he called
us all "frontrunners."
Oh Jimmy, what were you thinking????
Jimmy spent most of 2008 on the wrong side of the fans and although his stats were comparable to his career averages, he couldn't match the terrific MVP numbers of 2007. If the Phils don't make a late season run, I think Jimmy is taking a lot of heat right now. But, the Phils had a great run and Jimmy contributed, so now the memories of fans are mostly postseason homers and parade speeches.
Memorable Moment:
For me, I'll remember the two defensive plays he made in the last series against the Nationals: the
over-the-shoulder catch
to save Lidge and of course the
DP to clinch
the East.
Preview:
I don't know what predictions JRoll will make in 2009, but my prediction is that he'll be playing shortstop, batting first, and doing so at the bargain rate of $7.5 million
--------------------------
Joe Blanton
Review
: When the Phillies traded for Blanton, I was one of the few bloggers to defend the trade as a positive. My
primary argument:
"This trade helps the team now."
And help the team Blanton did. He finished the season 4-0 with a 4.20 ERA then went 2-0 with a 3.18 ERA in the postseason.
Blanton wasn't the biggest name traded before the deadline, but he ended being the most important. And regardless of how Cardenas or Outman perform in the future, it will be hard to argue that this trade wasn't a success.
Memorable Moment:Preview:
Along with Cole Hamels and Brett Myers, Blanton is already penciled into the rotation. He made $3.7 million in '08 and is arbitration eligible '09, so he can expect a modest pay raise, in the $5-6 million range, I would say.
Corey