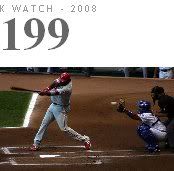 Ryan Howard
Review:
Did you know that Ryan Howard struck out a lot last season? Sure, he hit 48 homers and drove in like 300 runs or so, but we didn't have a "watch" for those stats...
Memorable Moment:
With the Phils holding a one run lead in Game 4 of the World Series, Howard crushed a three run shot to left giving the Phils a commanding four run lead.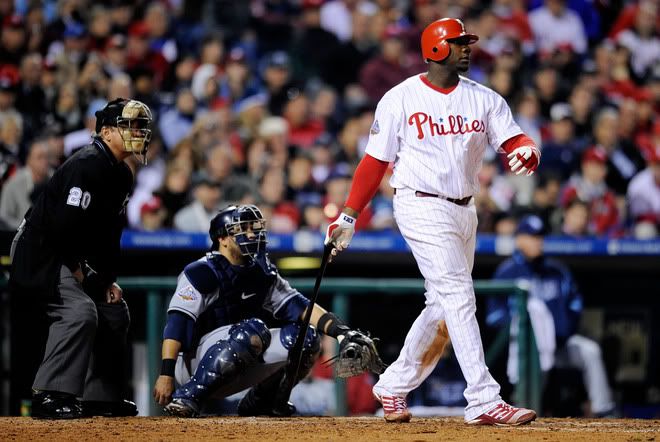 Preview:
Ryan Howard will strike out many times in 2009. He will also hit 40+ homers and drive in well over 100 runs. There are some question marks hovering over Howard, however. How much will he earn in '09? Will the Phils lock him up long term this offseason? And does he rent his skank out for parties?
---------------------------
Jayson Werth
Review:
Werth had an outstanding season for the Fightins. Werth took over for the hurting Victorino in the early part of the season and for the struggling Jenkins in the later part of the season. Along the way, he compiled excellent numbers: .273-24-67 and 20 steals. Sixteen of those homers came against lefthanded pitching, a stat that lead the league.
Memorable Moment:
On May 16th at home against Toronto, Werth went 3-4, slamming three homeruns and knocking in eight. That performance narrowly beat out his memorable performance in World Series Game 2...
Of course, his mom was pretty memorable too...
Preview:
Werth played in 130 games and got to the plate over 400 times in 2008. Geoff Jenkins, if healthy, will get some time in a rightfield platoon, but Werth should still see most of the starts. (Even though he's only a career .250 hitter against righties...) Also, given the uncertainty of leftfield and the tenuous injury status of the cannonball that plays center, Werth will get plenty of opportunities to duplicate or exceed his 2008 numbers.
---------------------------
Ryan Madson
Review:
Madson ended the year with a 4-2 record, 3.05 ERA, and 1.23 WHIP. He was 1-0 with a 2.13 ERA in the playoffs, too. Yet for the majority of the season, I thought Madson sucked. For a while, it seemed that every runner he inherited, scored. I don't have stats for that, though, and he only blew 2 saves during the regular season. In fact, I don't have any stats that say that he sucked. You'll just have to trust me, I guess...
Memorable Moment:
He pitched a scoreless 8th in Game 1 of the World Series, setting the Rays down in order. For a set-up man, it doesn't get much better than that. But I don't remember that, I remember this:
Preview:
Madson's agent, Scott Boras, compared him to a circa 1996 version of Mariano Rivera. [Pause, so everyone can chuckle...] In 1996, Rivera had a 0.99 WHIP. The following year he saved 43 games and had an ERA under 2. Ryan Madson is not Mariano Rivera. Maybe Saul Rivera or Ben Rivera, but not Mariano Rivera. Expect more of the same from Madson in '09 - an ERA over 3 & plenty of holds...and me only pointing out the negatives.
Corey