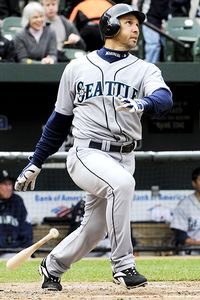 If the Phils are rumored to be interested in a free agent (no matter how far-fetched it sounds…) we are going to take a look him. Today's candidate: Raul Ibanez.
Positives:
Price – Ibanez made a modest $5.5 million in 2008, and at age 36, he can't expect to get a longterm, high priced deal. It's pure speculation, but 2 years at $10 per should get the job done.
He Can Hit – In the last eight seasons, Ibanez hasn't hit less than .280, has hit 20+ homers five times, and driven in 100 four times.
Negatives:

Age – As I mentioned above, Ibanez is already 36 years old. Sure, he's a spring chicken compared to Jamie Moyer, but I would be very hesitant to give a $20 million dollars to an old outfielder.
Lefty – The Phils have lefthanded power, but their righthanded power leaves with Burrell. Ibanez is a career .268 hitter against lefties, with a 3:1 strikeout to walk ratio, and only 34 career homers.
Type A – The Phils have an unprotected first round pick, and with Ibanez's Type A status, they would lose that pick.
Overview:
I don't think Ibanez would be a good play for the Phils. He's old, he won't come cheap (money and picks), and he doesn't provide an option for the middle of the order when they are facing a tough lefty.
Corey