The Phillies-Dodgers series starts tonight, and it seems that the majority of pundits are leaning heavily towards the Dodgers. For example, take a look at the ESPN.com picks. Even hometown guy Jayson Stark is feeling blue.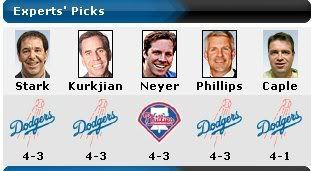 Why is this? Better pitching? Manny? Joe Torre? Who knows. To make my pick for the series, I'm going to compare Philadelphia and Los Angeles, stack them up "tale of the tape" style, and see who comes out on top.
Famous Landmark
Philly: Liberty Bell - A symbol of freedom and independence for the greatest country in the world. Pretty hard to beat.
LA: Hollywood sign - Narrowly beats out the giant "Randy's Donuts" donut as the most recognizable landmark in LA. That's saying something about the lack of history and tradition in LA.
Advantage: Philly
Signature Food
Philly: Cheesesteak - Quite possibly the greatest regional sandwich in the USA. Throw in other local favorites (scrapple, water ice, soft pretzels) and this category is a run-away.
LA: Crazy pizza toppings - Just because you can put avocados and tofu on a pizza, doesn't mean you should.
Advantage: Philly.
Referenced In Song
Philly: Streets of Philadelphia - It's The Boss. It's an Oscar and Grammy winning song. It's a classic and it's a winner.
LA: I Love LA - It's Randy Newman. He did his best work in
Toy Story
.
Advantage: Philly
Fans
Philadelphia: Much maligned. Passionate to a fault. Plenty of video evidence showing fans handing out ass-kickings to Mets fans.
LA: They show up late and leave early. The best Dodgers fans are probably still in Brooklyn.
Advantage: Philly (in a major beatdown.)
Beloved Fictional Character
Philadelphia: Rocky - He beats foreigners (Ivan Drago), he beats Americans (Mr. T, Apollo Creed) , he beats meat. He made running up steps seem like a fun thing to do.
LA: Cheech & Chong - They get high and made other people who get high laugh. Not bad work if you can get it.
Advantage: Philly. However, if LA makes a statue of Cheech or Chong, this category becomes a "push."
The numbers never lie, and the numbers say Philadelphia is the far superior city. However, if you are still in doubt, consider this. Joe Torre moves from the east coast to LA and what does he like now? Yoga, wheat grass, poodles and riding in convertibles with other men. Moreover, our manager looks and talks like Foghorn Leghorn, but even he thinks surfing in a baseball cap is stupid. Visual proof below.
Let's hope this urban superiority translates into baseball victories.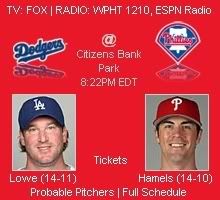 And just in case you forgot, the game starts at about 8:30 tonight and will be broadcast by FOX in fantastic Hi-Def. I will be working and following the game on the 'net, so any specific game details you guys can relay in the comments section are greatly appreciated.
Corey