We've had a day to celebrate and it will soon be time to look forward to the World Series, but before we move forward, let's look back at the first two playoff series.
NLDS - Milwaukee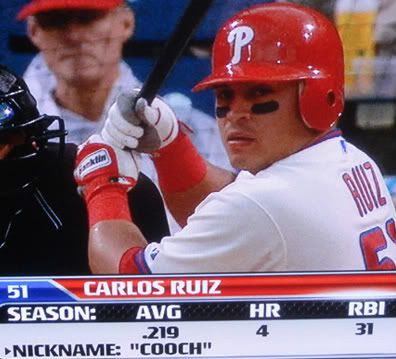 Best New Nickname
- Carlos Ruiz. Gotta love the "Cooch."
Best Hitter
- Brett Myers. Myers had the greatest walk in Phillies history when he worked CC Sabathia over in Game Two of the series. He also had the best F-9 of the series after he made Sabathia throw ten pitches in the at-bat. He also had a hit, but his 0-1 with a walk was much more important.
Worst Hitter
- Prince Fielder. One solo homer in fourteen at-bats is all The Big Veg had to show for is playoff efforts.
Best Pitcher
- Cole Hamels. Eight innings, nine strikeouts, two hits and zero runs in opening up the 2008 playoffs with a win for the Fightin' Phils.
NLCS - Los Angeles
Best Homosexual Innuendo After Hitting A Game-Winning Homer
- Matt Stairs. (Video from
thefightins.com
)
Best Pitcher
- Cole Hamels. Fourteen innings, thirteen strikeouts, three earned runs, two victories and one NLCS MVP.
Worst Pitcher
- Chad Billingsley. Says Joe Torre, "He's sensitive." Okay, so I won't say bad things about the testicle-deprived Billingsley, I wouldn't want to hurt his feelings.
Best Player
- Shane Victorino. His game-tying homer in the 8th inning of game four might have been the biggest hit in the series. but his greatest achievement was pissing off those psychos at PETA. Victorino proves that you can't come between a man and his love for Spam. [Pic used without permission, because we don't need no stinking permission, from
HuggingHaroldReynolds.com
]
Worst Player
- Blake Dewitt. Dewitt had a three-run double in game two...and was 0-12 the rest of the time, leaving a few hundred runners on base. The Dodgers would have been just as good with
Joyce Dewitt
at second base.
Come on knock on our door...
Best Impersonation of a Feminine Hygiene Product
- TJ Simers. There will be no summer fresh Simers at this year's Fall Classic.
Hottest Dodgers Fan
- mmmmmm, Samantha Micelli...
Corey