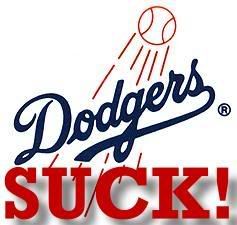 Anybody want to catch a plane to LA this morning and go watch Game 5? There are plenty of tickets available for not much money. Hundreds of upper deck tickets are on stubhub.com for less than $30, with some as low as $15. Many others are being sold below face value. And it's not necessarily because many fans may feel that the Dodgers are likely to lose the series, because ticket prices were similar for Game 4. By comparison, standing room tickets for a possible Game 6 at The Cit are starting at $170.
This is a direct reflection of the Dodgers and the Phillies and their respective fans. As a Phillies fan, ask yourself this question: If the Phillies were down 3-0 in a best of seven series, would you pay full price for a ticket to watch game four? I'm willing to bet at least 80% of you would say yes...
-----------------------------
Starting Pitching Matchup

Cole Hamels
will be working on five days rest. Here are his results for the last 4 times he's pitched after five days off.
Opp Dec IP ER K
FLA  L 6.1 2  7
LA   W  7  2  5
MIL  W 6.1 2  4
MIL  W  8  0  9
Chad Billingsley
has great career numbers, but he has never had much success against the Phillies. He's given up 15 earned runs in just over 20 career innings against Philadelphia. Billingsley had his worst outing of the season when he faced off against the Phils 5 days ago and the aftermath wasn't pretty. From a Yahoo! article, "teammates believed he'd wilted under the unspoken code to settle the score and was chastised by at least one teammate somewhere between Philadelphia and Los Angeles that night."
How did Billingsley handle it? "He rued his pitch selection, implying his catcher – Martin – might not have helped as much as he should have. And a few times, he appeared near tears."
Manager Joe Torres take - "He's sensitive."
Sensitive? Let's make him cry. Let's make all of LA (or at least the 1% that cares about baseball) cry tonight. Go Phils!!!
Corey