The Tampa Bay
Devil
Rays (from St. Petersburg, Fl.) started play in 1998 and have finished above last place only twice, first in 2004 and again this year. Before this year they were known for ugly uniforms, an uglier stadium, and a lack of both fans and wins. But these aren't your 20th century Devil Rays. Let's get to know the 2008 Rays.
Unlike perennial AL East powerhouses New York and Boston, Tampa assembled their winning team through the draft and by trading older, expensive players for younger ones. Take a look at their lineup and how they came to Tampa.
Offense:
Carl Crawford
- 2nd round draft pick.
Rocco Baldelli
- 1st round draft pick.
BJ Upton
- 1st round draft pick.
Evan Longoria
- 1st round draft pick.
Dioner Navarro
- acquired from Dodgers for Toby Hall and and former 76ers forward Mark Hendrickson.
Carlos Pena
- free agent.
Akinori Iwamura
- free agent purchase from Japan.
Cliff Floyd
- free agent.
Jason Bartlett
- acquired from Minnesota as part of the Delmon Young trade.
Pitching:
Matt Garza
- acquired in a trade with Minnesota for prized offensive machine and umpire battering outfielder Delmon Young.
Scott Kazmir
- ripped off the Mutts in getting Kazmir for Victor "Not Carlos" Zambrano.
Andy Sonnanstine
- drafted in the 13th round.
James Shields
- drafted in the 16th round.
Edwin Jackson
- acquired in a trade with the Dodgers for closer Danys Baez.
David Price
- the potential closer and playoff phenom was a first round pick from last year.
Dan Wheeler
- acquired in a trade with Houston for Ty Wigginton.
JP Howell
- acquired in a trade with Kansas City for Joey Gaithright.
Grant Balfour
- acquired in a trade with Milwaukee for Seth McClung.
Of course, the stadium is a piece of crap and they still don't have fans, so they aren't totally different from your 20th century Devil Rays.
---------------------------------
About That Ballpark
I visited Tropicana Field during the inaugural 1998 season and I was severely unimpressed. Considering that my frame of reference was the rat-infested, "cookie cutter" Vet, that tells you what The Trop is like. [No offense to The Vet, the greatest stadium ever, may you rest in peace.]
The Trop was built in 1993 in an attempt to lure a major league team to Tampa/St. Pete and was originally called the Suncoast Dome. It was later renamed the Thunderdome although Mad Max never lived in the dome. The juice advertisement came with the baseball team.
Some other ballpark quickfacts:
- It is the only facility to have artificial turf and all-dirt basebaths and not just dirt "sliding pits."
- The dome is home to the Ted Williams Museum/Hitters Hall of Fame.
- Despite building the dome with goal of getting a baseball team, no one designed a space for the bullpens. They are down the left and right field lines, very much in play and often becoming obstacles for outfielders.
---------------------------------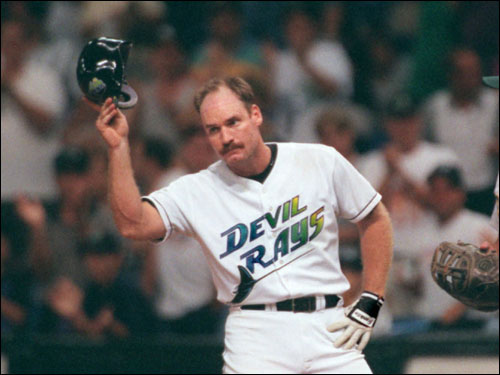 Hey, Whose Number Is That?
The Rays have retired two numbers so far. One is the mandated number42, the other is Wade Boggs' number 12. Boggs played his final two unspectacular seasons in St. Pete, collecting his 3000th hit in the 1999 season just before retiring. So why would Tampa retire his number? Is it because of his many superstitions, like eating chicken before every game? Is it because he's the pitch man for Medical Hair Restoration? Nope, it's because the guy once
drank 64 beers
on a single cross country flight. They should have made him change his number to 64 before he retired.
---------------------------------
Can We Get A Do-Over?
The Rays have made some great moves to put this championship team together. But not every move they made worked out. Here are my favorite two mistakes.
1) Devil Rays trade Randy Winn to Seattle for the rights to negotiate with Lou Pinella. They gave away their only All Star for a manager. Too stupid to even mock.
2) Bobby Abreu to the Phillies for Kevin Stocker. Abreu was the D-Rays' sixth pick in the 1997 expansion draft, but he was immediately shipped to Philly. Best trade in Philly history?
---------------------------------
Worst Logo Ever
This vomit-inducing work of graphic design was actually the cap logo for the Devil Rays in 1999. Uuuuugghhh.
Corey