Here are some interesting tidbits and stories to help you get to know the Phillies next victim, the LA Dodgers.
Can We Get A Do-Over?
There are mistakes, and then there are things like the signing of Andruw Jones. The Dodgers gave Jones 2 years and $36 million this year after posting a .222-26-94 line last year with the Braves. It was a big gamble that paid off only for Jones and agent Scott Boras. Jones' season with the Dodgers: .158-3-14 in 76 games and a trip to the 60-day DL.
The thing I really don't understand, is that Jones has made over $90 million dollars playing baseball and he can't afford a better looking woman? I think I see an adam's apple...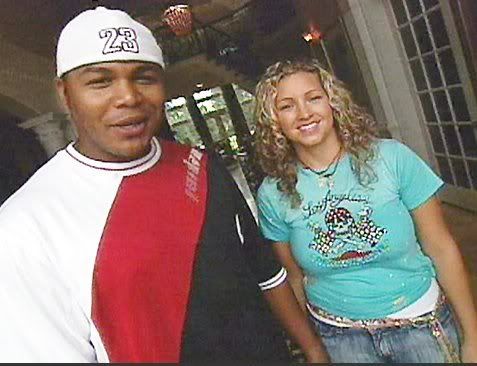 --------------------------
Their Gordon Won't Play Either
While our Gordon, Tom, is out for the season with another injury, the Dodger's have a Gordon of their own that won't be participating in the series. Tom's son,
Devaris Strange-Gordon
, was drafted as a shortstop in MLB Draft this year. Strange-Gordon (which is in no way similar to Bizzaro Gordon) hit .331 in the Rookie League this year. Strangely enough (pun intended), the senior Gordon allowed opposing batters to hit about .331 this year...
---------------------------
Oooh, It's Like A Soap Opera
Game 1 starter Derek Lowe wasn't very visible when he was winning World Series games and pitching no-hitters with the Red Sox, but he made the news after moving to LA. In 2005, Lowe divorced his wife of seven years partly because he was having relations with Carolyn Hughes, a reporter for the Fox Sports Net West show "Dodger Dugout." The story even made it
into a show on E!
.
Nothing like this happens in Philadelphia. At least I haven't heard of any player getting down with "Phillies Clubhouse" reporter Leslie Gudel...
---------------------------
Steve Freaking Garvey
Garvey played 14 years with the Dodgers, and I guess he put up some good numbers. I don't really care. What's more interesting is his ex-wife's tell-all book in which she reveals the details of her marriage with Steve, including all of his sexual affairs. Apparently, Garvey had a few illegitimate children. The popular phrase "
Garvey is not my padre
," references this along with his time playing in San Diego.
Of course, Garvey might be better known for his Celebrity Billfishing Tournaments. No other celebrity has the clout to get that comedian no one ever heard of
and
the sheriff from
Murder She Wrote
on a boat at the same time. Enjoy.
Corey