We've phlashed back to many players on the '93 team before , but we've never gone back, reminisced, and given props to '80 World Series team. This is partly because we thought we might jinx something, and partly because we were both 1 year old at the time and don't remember anything. But now that Williams Penn has obviously gained some closure about not being the tallest thing in Philly, we can mention the '80 team without fear.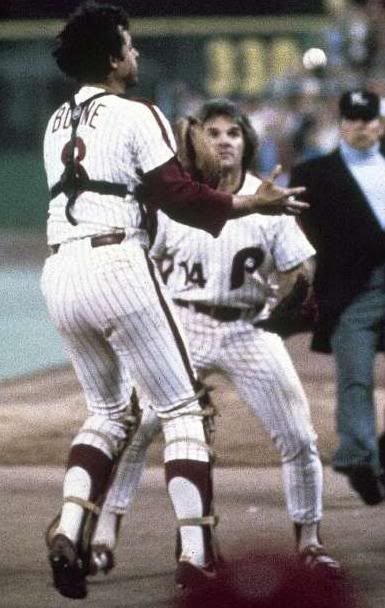 Like I said above, I was only one year old when the Phils won it all, so I can't add any analysis or insight into how things went down. [Although when it did go down, I bet Blondie or Queen was on the radio.] So, this post is to 1) expose the youngsters to the names of the great Phillies on this team and 2) allow the old-heads who read this blog to pop an
Aricept
and try to remember the days...
The lineup:
1. Pete Rose - 1B
2. Bake McBride - RF
3. Garry Maddox - CF
4. Mike Schmidt - 3B (League & WS MVP)
5. Greg Luzinkski - LF
6. Bob Boone - C
7. Larry Bowa - SS
8. Manny Trillo - 2B (NLCS MVP)
The bench:
Lonnie Smith, Kieth Moreland, Greg Gross, Del Unser, Ramon Aviles
The rotation:
1. Steve Carlton (Cy Young)
2. Dick Ruthven
3. Bob Walk
4. Randy Lerch
5. Larry Christensen
The bullpen:
CL - Tug McGraw
Dickie Noles
Ron Reed
Kevin Saucier
-------------------------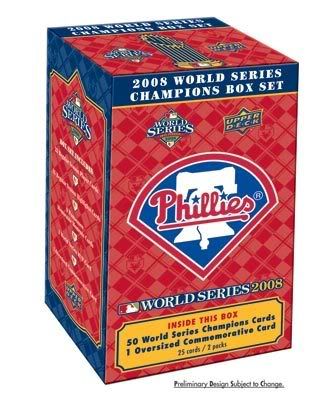 Collectibles
Carson listed a bunch of items yesterday that you could buy to preserve the memory of this great occasion, but I have another one today for those of you who are fans of baseball cards. Upper Deck has put together a commemorative World Series Champions box set. For more info, details or to purchase a set, follow the link to
Upper Deck's website.
Get one for yourself, get one for your friend, get one for your one year old son who won't remember this but 28 years later when the Phils win another one he may want to do a blog post about this year's team and may need something as a reference....
Corey