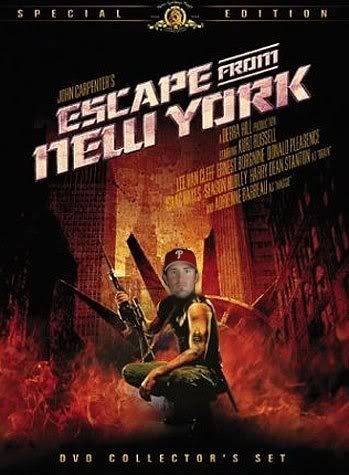 The Phils roll into the Big Apple three games behind the frontrunning Mets. With only 19 games to go after this series, it's obvious that they can't afford to drop any games this weekend. Anything short of two victories will be considered a debilitating failure. Here are the matchups for this weekend.
Game 1
-
Brett Myers v. Mike Pelfrey
- Myers has been fantastic in his last seven starts, going at least 6 innings and giving up 3 runs of less in all of them. He's only given up 2 runs in the last 23 innings. Mike Pelfrey lost six straight decisions earlier this year, but is 11-2 in his last 13 decisions. He's been extremely solid for the Mets all year. However, the guy has to wear a giant rubber mouth piece so he
doesn't gnaw off his tongue
. The Phils can't lose to a guy like that. I predict a Phils win in game one.
Game 2
-
Jamie Moyer v. Pedro Martinez
- When Moyer gave up 6 runs to the Mets last week, it was first time he had given up more than three runs since June 1. Of course, it was against the Mets, so... As for Pedro Martinez, who knows if he's even going to pitch. Yahoo! has this to say about him: "Pedro Martinez threw long toss but did not throw off a mound Wednesday, Sept. 3. The team expects Martinez to start Saturday, Sept. 6. He has been bothered by general body stiffness and velocity issues." Moyer has been pitching good and Martinez is fragile, so naturally the Mets take this one.
Game 3
-
Cole Hamels v. Darth Santana
- Kyle Kendrick's turn is being skipped, setting up this great pitching matchup in what I think will determine the series winner. Both lefties are on the top of their respective games right now, perfectly mixing 90 MPH fastballs with devastating changeups. This game could go either way, but I think the Phils take it and the series.
At the end of the weekend, the standings will look like this:
NY Mets 80-63 --
Phillies 78-65 2.0
------------------------------------
Mr. Met = Bad Influence
They tried to make me go to rehab but I said 'no, no, no,'
Yes I've been black but when I come back you'll know know know.
I ain't got the time and if Mr. Met thinks I'm fine,
They've tried to make me go to rehab but I won't go go go.
Corey