"He's become the top-tier pitcher everybody knew he was" - Greg Dobbs
"This is his best game this year. This is definitely the most impressive. Right on time, too." - Charlie Manuel
"He was outstanding, just outstanding. That might be one of the best we've seen this year, at least against us." - Jerry Manuel
"Myers was great. I have inappropriate relationships with alpacas and I won't come back to pitch until after the Phils leave town, because I'm a coward." - Billy Wagner
----------------------------------
Tad Iguchi
For the second year in a row, the Phils have picked up Tad Iguchi to assist them in their stretch run. Iguchi, released earlier by the Padres, has hit only .231 this year. However, Iguchi hit .304 with the Phils last year, so hopefully the return to Philadelphia can spark some hits. But even if he only hits .231, he's still better than So Taguchi...
----------------------------------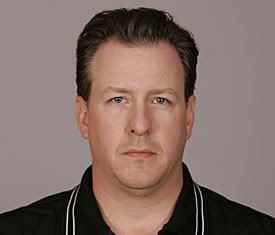 Stupid Umpire
This is a picture of last night's home plate umpire Paul Emmel. Take a good look, and if you see this guy walking down the street, stop him and tell him he's a giant douche.
The decision to shoot Rich Dubee in the back with an ejection was one of the most ridiculous ejections I've ever seen. Dubee played by the rules. He wanted tell Emmel how stupid he looked when he flinched on what would have been the third strike on Daniel Murphy, on the pitch just before Murphy hit a double to left. He made the trip to the mound, waited for Emmel to come out and then told him he was an idiot as he jogged back to the dugout. This was totally within the unwritten rules of how to tell an umpire they are full of crap without showing him up. But then Emmel throws out the rule book and throws Dubee from the game. Ridiculous.
----------------------------------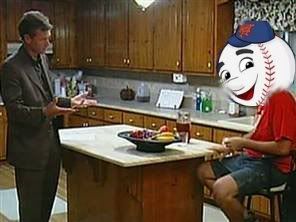 Mets Promotions
Lat night was
Dog Day
at Shea Stadium so ticket holders could bring their dogs into the park with them. Shea Stadium is already full of dog shit, so why not.
Today the Mets are having
Internet Safety Day
. To fulfill the community service requirement imposed on him by the state of New York after his notorious appearance on Dateline's "To Catch a Predator," Mr. Met will "warn kids about the threat of online sexual predators trolling the Internet." Do they really think having an anti-sexual predator day at a Mets game is good for business? That's like having an anti-mullet day at a NASCAR race. Or an anti-lesbian day at a WNBA game.
----------------------------------
Sunday Addendum
Wasn't it nice of Tropical Storm Hanna to wash out yesterday's game so we could watch Penn State tear apart those Beavers without having to flip back and forth. Here is the schedule of games for today.
2:15 - Moyer v. Martinez - For those of you who are thinking with your wings today, that is about an hour after the bird kick off at the Linc. The Phils website says the game will be carried by the CW 57. I'm unsure if the CW in south central PA area will be carrying the game or not, but that is where to look for it.
8:00 - Hamels v. Santana - ESPN Sunday night game of the week. Will the Phils be going for the sweep?
Corey