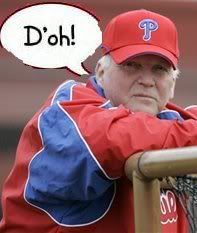 The Mets top the Brewers, We lose to a bunch of schmucks.This is why, this is why,This is why we suck.
How would you describe losing 2 of3 games to the
Harrisburg Senators
Washington Gnationals in the midst of a September playoff race? Infuriating? Depressing? Unbelievable? Any way you describe it, it's not good.
The Phils and Mets have very similar schedules for the remaining month and I doubt that the Phils will gain ground in the corresponding fixtures (Phils v. Brewers and Mets at Washington). Frankly, this was a series of games that we probably all expected would result in no worse than a maintenance of position in the standings. Instead, the Phils dropped two games to the Mets. They did gain a game on the Wild Card leading Brewers, so they have that going for them...
----------------------------------------------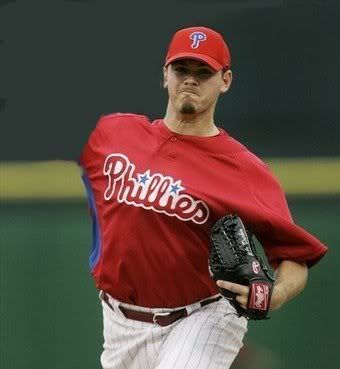 It Fell Off
Chad Durbin has been great for this team this year. He's been a true revelation in the bullpen. But it's over for this year. His arm has fallen off. He's got nothing left in the tank and has given up 10 runs in the last 12+ innings he's pitched. Like I said, he's been spectacular up until the last two weeks, but he can't be the 8th inning/setup guy anymore. I hate to say this, but even Ryan Madson looks like a better option at this juncture.
----------------------------------------------
The Most Important Series..
...of the year starts on Friday against the Mets. The Phils need at least two wins. A full breakdown of the series and pitching matchups will be up tomorrow.
Corey