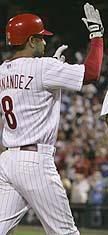 I was trying ot think of someone interesting to do a Phlashback on, but no name I could think of seemed very interesting. But then I watched Ryan Howard and Eric Bruntlett both strikeout with a runner on second and nobody out and suddenly my decision was obvious. What better than to reminisce about former Phillie, former Pirate, former Dodger and strikeout wonder Jos-K Hernandez.
Hernandez's time in Phillie was brief. So brief that I could only find this
one picture
of him. He was purchased from the Buccos (rumor has it, with actual money) in 2006 and played in 18 games. He got 32 at-bats and collected 8 hits. At the end of the year, Hernandez was released and resigned to a minor league deal with the Pirates. He never made it back to the bigs.
In the end, Hernandez played with ten teams over fifteen seasons, earning almost $18 million. He made one All Star game but will be best remembered for his prodigious strikeout numbers. He struck out 1391 times and collected more than 180 in a season twice. The only other players to have more than 180 K's in a season more than once are Jim Thome (2), Adam Dunn (2) and Ryan Howard (2). [Of note, eleven players have K'd at least 180 times in a season, and 5 have played for the Phils: Howard, Hernandez, Thome, Schmidt, Incaviglia.]
-------------------------------------
Summertime Blues
How about that game last night? As
Cool Hand Luke
would have said, "What we have here is a failure to execute." Utley's error that allowed the first run to score; Rollins' inability to get Hernandez on the grounder (granted, a tough play on a fast runner); Madson's inability to get anyone out; and Howard and Bruntlett's inability to advance runners to third with less than two out. Many times, little things like this can be overcome. But not for the '08 Phillies. They are mired in such an offensive funk that they have to play fundamentally sound baseball to win, even against teams like the Gnats. Here are some of the ugly numbers for this month.
- The Phils are hitting so poorly this month, their 8 for 34 performance last night actually raised their average to .210 (128 for 607).
- Only two players on the team are hitting over .280 this month. Dobbs is hitting .297 in August, including a two-run homer in the win Wednesday night. (Despite this recent hot streak, the lefty slugger was benched last night in favor of the returning Pedro Feliz.) The other hitter is Shane Victorino, who is hitting .292 in August, which has earned him a trip down the lineup and a few less at-bats. That makes sense...
- The biggest culprits are Ryan Howard at .164, Pat Burrell at .166, and Jimmy Rollins at .210. The rest of the guys are holding steady in the .240 range.
Corey