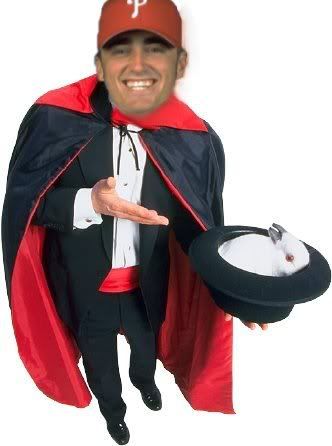 I can't help but think that Brett Myers pulled this game from his
ass
hat.
Myers didn't allow a run, even though the Dodgers had a total of twelve base runners over his seven innings. The Dodgers failed to score despite Matt Kemp leading off two separate innings with doubles, despite having at least one hit in every inning and outhitting the Phils 13 to 10, despite having multiple base runners in 6 innings and despite loading the bases with one out and Kent and Ramirez due up. Two separate innings ended with Manny Ramirez flying out to the warning track in right. In the end, the Dodgers left fourteen men on.
You might be inclined to say that Myers was lucky to escape unscathed last night, but the way he has been pitching over the last month, I think he deserves the benefit of the doubt. Even though he did give up a bunch of hits and put himself in trouble, he worked out of it every time with key strikeouts or double plays. He was able to spot his fastball, especially on the inner half of the plate and the curve was at time devastating and similar to the big hook he was throwing out of the pen last year.
The change in Myers since his brief minor league stint has been miraculous. [In terms of pitching, that is. He proved a few games ago that he is still a huge prick.] He looks like a completely different pitcher, as his head and shoulders are not flying toward first base and he's not looking into the right field upper deck when he delivers a pitch. And he's now 4-1 since he came back and has lowered his ERA a whole point. Check out the stats from his last five starts (not including last night.)

--------------------------
Mets/Phils
Like Myers, Carlos Delgado has had quite a turnaround this season. Through June, Delgado was hitting around .230 with few homers and runs batted in. There was a lot of talk in the beginning of the year about getting rid of Delgado. Then July came. He hit .357 with 9 long balls and 24 RBIs. In August he's hit 5 more homers and knocked in another 21. Now, the hot hitting Delgado leads the Mets into CBP for a quick two game set. The Mets will go with Pedro and Johan. The Phils counter with Moyer and Kendrick. These pitching matchups are tough for the Phils and it would be nice to get a win in the opening because getting one against Johan doesn't look promising. I'll be happy with a split...