If you're havin' 'pen problems I feel bad for you son,
I got 99 pitches so I can't throw one.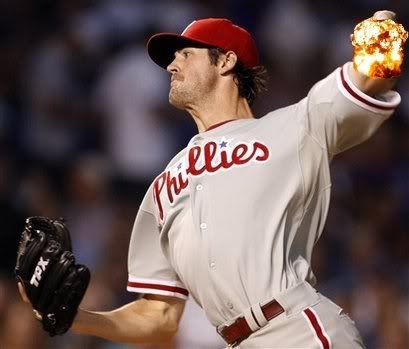 Why the f@#k did Cole Hamels come out of the game last night? Seven innings, 5 hits, no walks, and cruising. But he had thrown 108 pitches and if you look closely at this photo of Hamels during the bottom of the 7th when he threw his 100th pitch you'll notice the spontaneous combustion of his elbow, which is a known risk factor of throwing 100 pitches in a single game. Considering that throwing 110 pitches can lead to auto-amputation and throwing 120 pitches often results in a break of the space time continuum, it just isn't worth leaving your staff ace on the mound with a three run lead in the 8th inning on the road against the team with the best home record in the NL in the final weeks of a playoff chase. I mean, that would have just been stupid. Oh, and the bullpen is overworked, exhausted and collectively pitching like crap, but I'm sure everyone on the team had confidence that Ryan Madson would do just as good of a job as Cole Hamels. When Shane Victorino stood with his arms folded as Ramirez's homer sailed into the stands, I bet he was thinking, "At least Hamels wasn't out here to give that up"
Speaking of the bullpen, why are they still throwing from the mound? At this point, they should just move up to the front of the mound, set up an L screen, grab an entire bucket of balls, wheel a cage over home plate and just throw some BP. As a matter of fact, why even throw at all? I say add a Jugs machine to the forty man roster, throw a jersey on it, and let it pitch the eighth inning.
Also, I don't care if Ryan Madson's ERA is only 3.56, you cannot convince me that this guy doesn't suck. He should never see the 8th inning unless they are losing by at least 5 runs. Basically, if the inning number is higher than Charlie Manuel can count, Madson should be kept in the bullpen.
The Phils face Rich Harden, Ted Lilly, and Carlos Zambrano the next three days. By the end of the weekend, I fully expect the Phils to be 3 full games back of the Mets.
Corey