Don't get me wrong, I love America. During the Olympics, I root for the Americans every time (except for women's tennis, there I go for
Ana Ivanovic
). So naturally I think that honoring our military for their service to our country is a great thing, except when it is done with awful camouflage uniforms. Those camo Padres unis need to go.
So, I started thinking what are the worst uniforms in Phillies history. That list wasn't long enough, so I included other Philadelphia teams. Here are my least favorite uniforms in Philadelphia professional sports history.
Phillies:
1) The "Saturday Night Specials" all maroon outfit of 1979. I wish they would bring this back for another game, much the same way I want Mike Tyson to box again. Fun to watch and nauseating at the same time.
2) The current Phillies uniforms. Actually, I'm being a little unfair to today's uniforms, because they aren't that bad. I just think the color is too bright and the "Phillies" script is a little cartoonish, especially with the stupid blue stars dotting the i's. I wish the Phils had more of a classic look to their uniform, with a muted red color and an old english "P" on the left chest, kind of like they had in the early 1900's. The pinstripes could go too...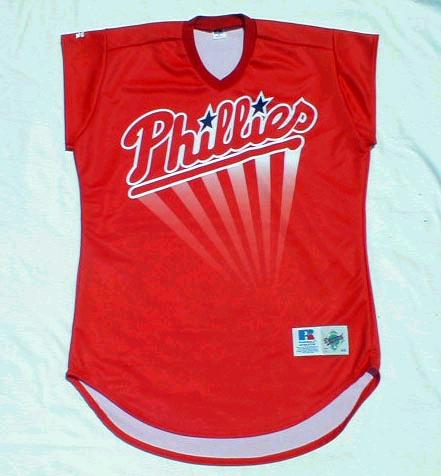 3) The "turn ahead the clock" uniforms used in the 1999 season. (You can see most of the
jerseys on one page here
.) What did these uniforms tell us about the future? There will not be enough material available to make sleeves, uniforms will be made by people with mental disabilities and/or drunks so no logo will ever be centered properly and most people who watch baseball will be legally blind, hence the need for giant logos.
Eagles:
1) The current Eagles uniform. "Midnight green" is ugly. I'm glad Reggie White and Randall Cunningham never had to wear these things. Why would they ever get rid of the regular green and silver?
2) The black alternate Eagles jersey. Not much to say about these except they are just plain ugly. The Eagles aren't black. They aren't midnight green. They are regular-effing-green and silver. Okay, I'm going to have a stroke...
Sixers: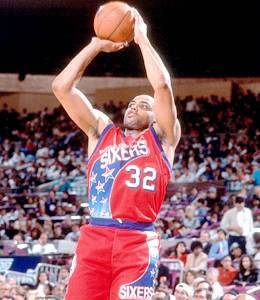 1) The early 90's Sixers. Not only did we have to watch Clarence Weatherspoon, Shawn Bradley, and Sharone Wright steal money, they did it wearing this clown costume. Futuristic? Groundbreaking? No, just crap.
Hockey:
1) The Black Flyers sweater. Not only do I hate black uniforms, but in 2001 they abandoned my favorite hockey sweater since the old Minnesota Northstars set, the standard orange Flyers sweater, and made black the primary home color. The orange sweater was relegated to alternate use. Despicable.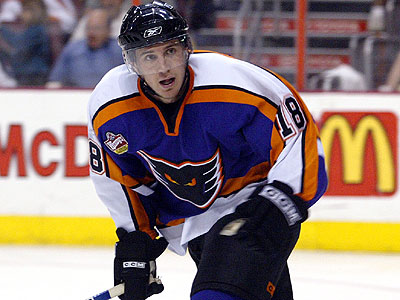 2) The Philadelphia Phantoms sweater. It's orange, it's purple, it's a freaking gay Halloween party on ice. Where's Brian Boitano?
--------------------------
Come On Get Happy
Like they said at over at huggingharoldreynolds.com, it's about time for everybody to help spread the clap. This is just a reminder that tomorrow night is the kickoff of
Campaign: Cheer!
Representatives of WSBGM's and others will be at the ballpark tomorrow night passing out propaganda to spur this movement on. Carson will have more details tomorrow so please be sure to check back in.
Corey