So Taguchi - Mike's Hard Lemonade
Who the hell buys this stuff? I guess people who have too much money and not enough brains. Instead of 30 bucks for a case, you can drop a 10 spot on a gallon of Minute Maid lemonade and a handle of Bankers Club vodka. Mix those two together and you've got a cheap, tasty, less-girly version of the drink that will leave you completely hammered and 20 dollars richer. Mike's Hard Lemonade is expensive and useless...just like Phillies 6th outfielder So Taguchi.
Saturday night, Eric Bruntlett and not Taguchi was used as a defensive replacement for Pat Burrell. Considering Taguchi has only gotten 6 at-bats in the last 4 weeks, it's obvious he has no role on this team at all. One more failed pinch-hit appearance and he'll drop below the Mendoza line. It's time for the Phils to cut ties with Taguchi and bring in someone who can help this team win.
---------------------------------
Game/Series Notes
- Two nights in a row Brad Lidge was used in non-save situations. In both instances, the Phils tacked on insurance runs in the top half of the ninth turning save situations into non-save ones, so I'm not going to be too hard on Charlie Manuel. However, the Phils had a 4 run lead when he hit Taguchi for Madson. He could have easily left Madson in the game and possibly spared Lidge 28 pitches and likely an unavailability for tonight's game.
- Time to give some props to Gavin Eaton. In seven of his last eight games, he's gone at least five innings and given up no more than three runs. And he's gone at least six innings in six of those starts. These aren't great numbers, but if the Phils could slot Eaton fifth in the rotation, those are completely acceptable.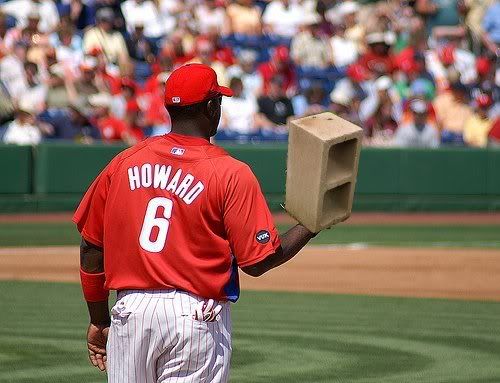 - If Teixeira's blast off of Lidge would have stayed fair, I might have jumped on a plane to Atlanta just to personally slap Ryan Howard in the face. I know it's a subject that has been addressed at nauseam, but his defense is offensive. Jason Giambi thinks Ryan Howard is a stiff at first base...
- In the series finale, Cole Hamels will face righty Jair Jurrjens and his 8-3 record and 2.94 ERA. Jurrjens hasn't allowed an earned run in over 21 innings so it won't be easy to get the sweep. First pitch is 7:10.
---------------------------------
Brett Myers
Here is the Comcast SportsNet report on Myers' start last night.
And here is Mitch Williams' response on Phillies Post Game Live to some of the comments made by Myers.
Corey