Here is ESPN.com's injury report for the game last night against the Marlins: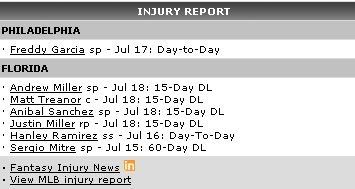 It's good news that Garcia has been upgraded to "day-to-day," but what about some of the other injured Phillies pitchers? Where are the reports on Steve Ontiveros, Bobby Munoz, and Chad Ogea? The Phils need pitching depth and it would be nice if one or all of those guys could make it back.
---------------------------
Series Notes
- The old guy does it again. He made Dan Uggla, Hanley Ramirez and the bunch look sick again with his slowball, slower curve and really slow changeup. Those guys are practically jumping at the ball. Do they even have a hitting coach? I don't think so, because they see Moyer enough but their approach to the plate never changes.
- Umpire Jim Joyce needs smacked. He ejected Manuel in the 5th inning after a very mild protest. To paraphrase Sarge "The Genius" Matthews, "He said something to get ejected." Yeah, no shit Sarge. But this is a big game and it should take more than a mild protest to get thrown out. The major league umpires are getting a little out of hand...
- Big start for Kendrick today, because if the Phils can beat Scott Olson, they have a good chance at a sweep with the Hamels-Johnson matchup coming on Sunday. And a sweep might be useful considering they will roll into a series with the Mets having "rehabbed" Myers and Joe Blanton starting the first two games...
Corey