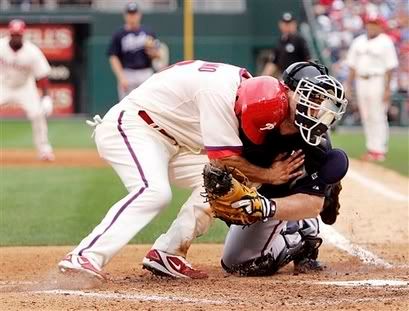 Anyone think Jimmy Rollins would have taken out Brian McCann like this?
---------------------------
What's Next?
From Philly.com: "J.A. Happ was lifted from the game by manager Dave Huppert after just 2 2/3 innings and 41 pitches against the Triple A Braves. He hadn't allowed a run, giving up two hits and a walk while striking out three. There were reports that he received high-fives from his teammates when he came back to the dugout."
Okay, so it's obvious Happ is coming back to the big club. But who leaves and what role will Happ have?
It seems that Eaton and Seanez are battling to stay with the club. So who should the Phils cut? I say both of them. Eaton is a total waste and now that the Phillies acquired Chubby Eaton from the A's, Original Eaton is even more expendable. Seanez had a nice start to the season, but he's cooled off considerably. I say drop Eaton and Seanez, trade for a lefty reliever, put Happ in the pen and have him waiting to take Myers' spot in a week or so...Or at the very least, please God, release Adam Eaton.
--------------------------
Jimmy Rollins Needs To Check Himself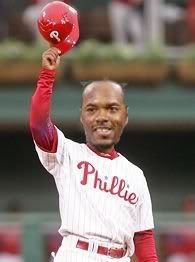 Carson posted this in the comment section today (I have no clue what the source of this information is, but like all good bloggers, I'm going to assume all gossip is true unless proven otherwise):
"Since being benched for getting to Shea Stadium late on Thursday, Rollins has made a point of showing up just in time to beat the manager's arrival deadline, and he...indicates he doesn't much care what anyone thinks of it."
Rollins has followed up an MVP season with one full of inconsistent play that lacks hustle, energy, and leadership. He built up a lot of good will last year and he's doing his best to ruin it. After the first benching, he saved some grace by admitting his error and accepting his punishment. This time, he's taking the exact opposite approach, acting like he is above the rules and above the team. His ego is so big, I think his head is actually getting bigger...
Corey