If you see this question on your SAT next year:
1.) Roberson : Defensive Replacement
the answer might be -- A) Bruntlett : Pinch Runner.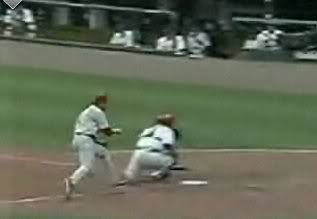 First, he
runs
back to second on a single to right. Okay, that's a mistake that could be overlooked. You don't want to get doubled up at second. But then he runs over Molina at home when all he had to do was slide safely into home. Don't get me wrong, I love it when players take out the catcher. It's a lot of fun. But you don't need to run over the catcher when he isn't blocking the plate!!! That was a mistake by Bruntlett that cost the Phils a run and probably the game.
----------------------------
The Phils have been on 5 road trips this year. Here's how they ended those trips:
Loss 3-4 NYM
Loss 1-5 PIT
Loss 3-4 SF
Win 15-6 HOU
Loss 6-7 StL
I'm not going to over analyze this trend because it's probably coincidental and with no deeper meaning. They are 1-4 at the end of road trips and that's it. However, it's a trend that is worth following...
Corey