Yesterday was the first day of the 2008 First Year Player Draft for Major League Baseball. The Phils chose some players. I don't know who they are, and I'm guessing you don't either. Here are some snippets on the top three picks. For the rest, go
here
.
1.
Anthony Hewitt - SS - Salisbury School
baseballamerica.com
- Hewitt is the epitome of high-risk, high-reward. The risk starts with his signability: Any team that drafts Hewitt must be prepared to open its wallet and buy the star out of a commitment to Vanderbilt. His raw bat was overmatched against quality pitching on the showcase circuit last summer; he struggles to recognize breaking balls and can get locked up at times by ordinary fastballs. But then he'll crush a ball 450 feet and give scouts a glimpse of his prodigious upside. He has three legitimate above-average tools in his raw power, speed and arm strength. His muscular 6-foot-1, 190-pound frame evokes Ron Gant, and his work ethic and charisma stand out. Hewitt plays shortstop, but his poor footwork, stiff actions and lack of instincts will dictate a shift to third base or more likely the outfield, where he has enough speed and arm strength for center or right.
MLB.com
- As the spring wore on, few players had more helium than Hewitt, a toolsy high school shortstop. He can run and should hit for power down the road. A terrific athlete with a good arm, most feel a move to the outfield is likely so he can just go out and develop his considerable offensive tools. As a Northeast kid, he's a little raw, but has shown good improvement this spring. His name had been climbing up charts everywhere and the only thing that could hold him back is signability due to a commitment to Vanderbilt.
ESPN.com
- Hewitt looks as good as anyone in a uniform in this year's draft. He's a five-tool package. He will put on a show in batting practice, but he's struggled in game situations against tough competition, like at the Area Code Games last summer. He projects more as a center fielder than as a shortstop. If everything clicks, he's a potential superstar. The problem is that he's about 4-6 years away unless he developmentally makes a quantum leap forward. He's high risk, potentially high reward.
WSBGM's - It's surprising to see "overmatched by quality pitching" and "struggles to recognize breaking balls" in the scouting report of a guy who is going to get paid millions tomorrow to face quality pitching and hit breaking balls. I know, he's young. He could end up great. But that sounds like the scouting report for Steve Jeltz. At least we know he "looks as good as anyone in a uniform." Way to gay-it-up, ESPN.
2.
Zachary Collier - OF - Chino Hills (CA) HS
MLB.com - Collier began the year behind other California high school outfielders like Aaron Hicks and Anthony Gose. He closed the gap with some strong performances this spring, showing some big-time power in some big games. He's still very raw, but with some more instruction, a whole lot could be unlocked.
WSBGM's - If I had the time, I would read all the scouting reports for the high school players and pick out those that contain the word "raw." That's the report somebody writes when they haven't actually seen the kid play, because they know they have a 98% chance of being accurate.
Anthony Gose - OF - Bellflower (CA) HS
MLB.com - Depending on how he develops, Gose could fit one of two types. He could be a Corey Patterson type, one who flashes brilliance and hits for power but strikes out a lot. He also could be a Juan Pierre type, a leadoff hitter who sprays line drives and steals bases. Either way, someone will draft the Urban Youth Academy product based on his projectability. Gose has also drawn plenty of interest for his ability on the mound, throwing as hard as 97 mph from the left side, but he's been fairly adamant about wanting to be considered an outfielder only.
WSBGM's - 97 mph? From a lefty? Someone convince this kid to put the bat down...
--------------------------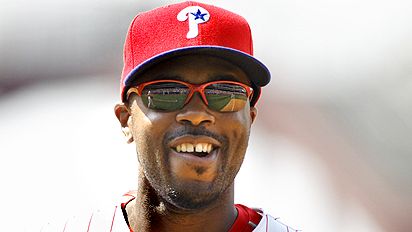 I'm A Hustler Baby...
I guess I should comment on the Rollins benching, but I don't think it is that big of a deal. Manuel did what he needed to do, and Rollins agrees.
"He's the manager and that's what he had to do," Rollins said. "He has two rules: Be on time and hustle. I broke one today. It's my fault. I can't be mad at him."
Rollins shows good leadership by taking responsibility for this little indiscretion. And because he handled it this way, instead of the way Milton Bradley might have handled it, I don't see this affecting Rollins or the Phillies in any negative way.
"That's a done issue," said Charlie. I agree.
Corey