Of all people, I thought Jimmy Buffett would respect grass a little better than this...
It's a disgrace to have an outfield that looks the way it does currently at The Cit. They couldn't fine another place in the Delaware Valley to host a couple thousand Parrotheads?
Thanks for ruining our grass Jimmy Buffett. And by the way,
your beer
sucks.
--------------------------
Triple the Fun
Pat Burrell and Ryan Howard had triples last night. This has to be the first time that happened, and likely will be the last. I think I saw Manuel try to put Taguchi in as Burrell rounded second...
--------------------------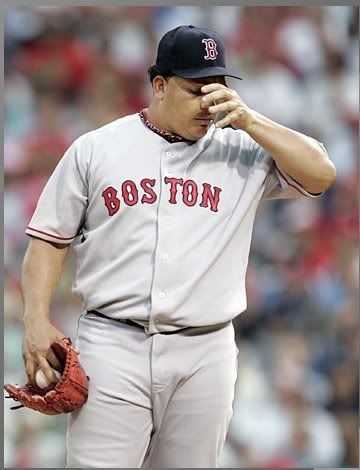 Garces Jr.
Is Bartolo Colon trying to turn himself into Rich Garces?
The only thing more pitiful than his 3 gopher balls and 4 chins were his 2 at-bats. Worst. Hitting. Pitcher. Ever.
--------------------------
Off Topic Quote
"The National League needs to join the 21st century. They need to grow up and join the 21st century. I've got my pitchers running the bases, and one of them gets hurt. He's going to be out. I don't like that, and it's about time they address it. That was a rule from the 1800s." - Hank Steinbrenner
Other rules Hanks wants both leagues to consider - a batting practice screen in front of the pitcher, 2 outs per half inning, moving the mound up to 45 feet, aluminum bats for players hitting under .250, allowing outfielders to use fishing nets, shortening the base paths to 60 feet, adding a fourth outfielder, growing grass in the infield dirt to be more "green," and adding a second DH.
--------------------------
Destiny?
"I believe we're destined to play each other in the World Series," Hamels said. "We can compete with them any day of the week."
Well, let's see if they can compete on Tuesday's and Wednesday's before we reach October. Tonight, Moyer v. Lester, first pitch at 7:05, first annoying comment by Chris Wheeler at 7:15.
Corey