Scoring twenty runs is cool, I guess, if you are into that sort of thing. It's not for me though. I get bored after the first 15. Instead, my favorite part of last night's game was watching Cardinals infielder Aaron Miles mow down the Phils in the 9th inning.
It got me thinking - who were the last position players to toe the rubber for the Keystone state ballclubs? And does Aaron Miles, who has now made 3 big league pitching appearances, wear a shoe with a
reinforced toe
?
I don't know about the second question, but I'm all over the first.
Phillies: Tomas Perez in a
17-3 blowout
against the Astros back in 2002. Hector Mercado gave up 8 in the 8th before The Pie Man replaced him. He induced a Jeff Bagwell grounder to third that was booted by Jason Michaels (yes, Perez on the mound and Michaels at third, it was bizzaro world in Houston...) and then got Jason Lane to fly out to right. Perez finished the game, the season, and his career with a 0.00 ERA.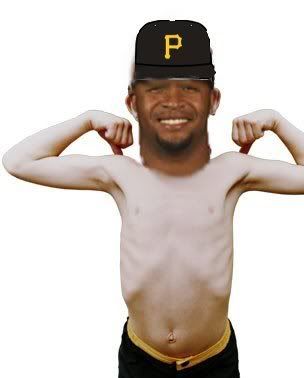 Pirates: Phucco Abe Nunez in a
12-1 loss
to the Chicago Cubs back in 2004. Mike Johnston and Brian Meadows gave up 7 in the the 9th before Nunez came in and bailed them out by getting Corey Patterson to fly out to center to end the inning. Nunez, like Perez, ended his pitching career with a 0.00 ERA. He never even gave up a hit, hence the nickname, No-Hit Nunez.
Enjoy the game tonight, Eaton vs. Lohse. Over/under on when you say to yourself, "Why couldn't they have saved some of those runs for tonight?" - 5th inning.
Corey