Brad Lidge
-
Dale's Pale Ale
I've never drank this beer, but I do know that it costs a lot of money per case (>$30) and more importantly...it comes only in a can! About time the can made a comeback. For many years, most beer was downed from a can. You needed a church key for a while, but then the pop-top came along and really increased the popularity of canned beer. However, the bottle slowly took over. Canned beer was left for dead, only to be consumed by rednecks, tailgaters, and college kids. The only way it could be sold was in 30-packs, marketing with the "quantity over quality" theory. Such a sad turn or events. Much like a certain relief pitcher who went from
All-Star to bullpen scrub
after a chance encounter with Albert Pujols. But Dale's Ale shows that there is quality in canned beer, and bottle beer better look out, because it's comeback time for aluminum! And it's comeback time for Lidge, who's poised for another 40 save season (and a big payday...)
----------------------------------
Phils - D-Bags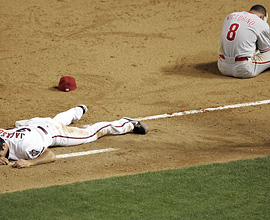 I predicted 3 wins for Arizona...wrong again. Of course, I also predicted a decent year for Gavin Eaton.
As for the game, it was on waaaaay too late for me to see. And I left the house before Comcast Sportsrise, so I didn't even get highlights. What I do know: Howard continues to struggle (see upper right portion of blog), Pedro Feliz went yard, and Shane Victorino collided with Conor Jackson and
didn't
have to leave the game injured. That's just as impressive as the Phils winning another game where half of the starting lineup was hitting less than .250.
Second-place Phillies (by percentage points) look to win the series today, first pitch 3:40, Myers v. Webb.
Corey