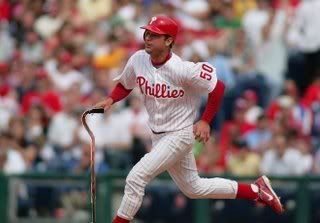 The Phils made it 9 in a row over the Muts. The Phils didn't do much, but they did enough.
Jamie Moyer was unspectacular but solid. He worked around a tight strike zone, kept Mets hitters off-balance and notched his first quality start of the season.
A special thank you needs to go out to Willie Randolph. The Phils managed only 3 hits off of Ollie Perez through 5 2/3, but back to back walks was all Randolph needed to yank Ollie. The odds the Phils were going to get to Perez? Somewhere between slim and none. Definitely a lot less than the odds they would get to the Mets bullpen. Thanks for the help, Willie!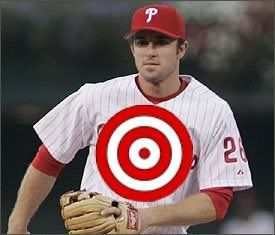 Chase Utley was hit 4 times yesterday: three times by Mets pitchers and once by Carlos Delgado when he was running the bases. I'm surprised Mr. Met didn't catch him with a rolled up t-shirt or a hot dog. Utley did escape injury.
However, Jimmy Rollins did not escape injury, as he was victim of one too many "look-backs" to second. On one, he jammed his left ankle into second base. He came out of the game in the eighth. I'm sure he'll be listed as "day-to-day." Cross your fingers...
-------------------------
Closers
Brad Lidge was unavailable for the game yesterday. He'd thrown in each of the last two games, the first being a 6 run loss to the Reds. It didn't end up hurting the Phils, but it was the wrong decision to have him throw in that meaningless game in Cincy.
-------------------------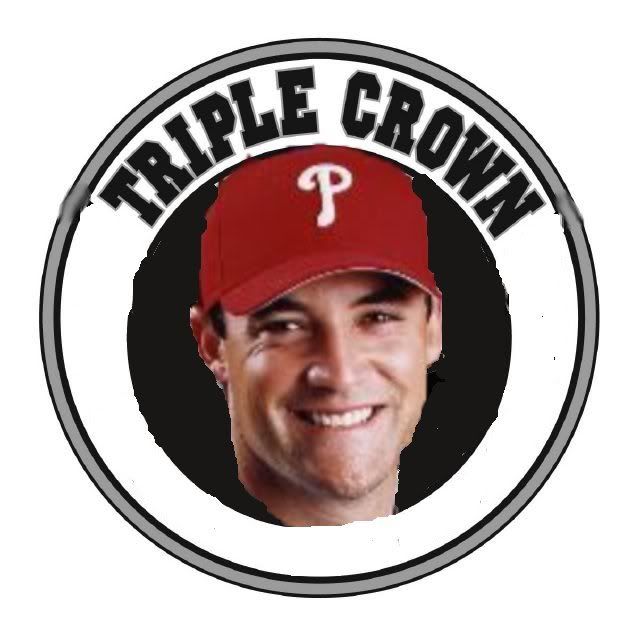 Triple Crown
Burrell's TC aspirations took a hit with his 0-3 yesterday. Manuel didn't do him any favors either, pulling him after 7, then having his spot come up again in the eighth in a primo RBI situation.
In other triple crown news, Pedro Feliz is close to leading the league in lowest batting average, strikeouts and GIDP...
Corey