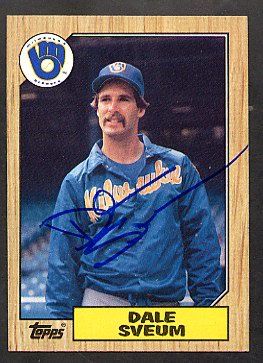 Today we remember Phucco great, Dale Sveum. Sveum played for 7 major league teams, including the Phillies in 1992 and the Pirates in '96-'97 & '99.
The Phils traded pitcher Bruce Ruffin to the Brew Crew to get Sveum. He played 52 games for the Phightins, hitting a Nunez-like .178 before he was traded away, this time to the White Sox for Keith Shepherd. [Shepherd pitched in 12 games for Philly, posted a solid 3.36 ERA, then was taken in the expansion draft by Colorado and was never any good.]
The Buccos signed Sveum three times to 1 year contracts in the late 90's. He never really contributed much and finally retired after the '99 season. He's bounced around the coaching ranks and is currently the third base coach for his original team, the Milwaukee Brewers.
Sadly, Sveum does not sport that sweet 'stache anymore.
Other interesting Dale Sveum facts: 1)he's the cousin of helmet-wearing first baseman John Olerud 2)he was an All-American quarterback with baseball & football scholarships to Arizona State 3)his name is NOT pronounced Sv-e-um...
---------------------------------------
Own This...
Ryan Howard took his owner, Ian Snell, deep in the second inning of the Phils 3-0 win over the Buccos yesterday. It was Howard's 5th long ball of the spring. Geoff Jenkins and Pedro Feliz also went long in the win.
Besides the homers, there was some other good news yesterday. Struggling second year starter Kyle Kendrick didn't give up a run and only allowed 2 hits in 5 innings. Also, injury plagued closer
Brad Lidge pitched
against some minor leaguers and reports are that he may be ready for opening day.
Corey