From
an article
posted by Phils new beat writer David Murphy:
Kris Benson thinks he's ready to face big league hitters. Charlie Manuel and Rich Dubee aren't sure yet.

One thing both sides would agree on: If Benson continues to improve at his current rate, he could be ready to join the rotation before the start of June.

"I don't know about May," Manuel said. "I definitely think it can happen before June."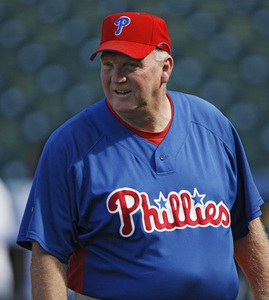 So Manuel is unsure if he'll be ready by May, but he'll definitely thinks it will be before June. What? Is there a month or two that I'm not aware of? Did somebody slide a month in between May and June when I wasn't looking?
Somebody needs to grab a camera and follow Manuel around, reality television style. If we can get gems like this in a random interview, imagine what greatness 24 hours of Manuel would yield.
Corey