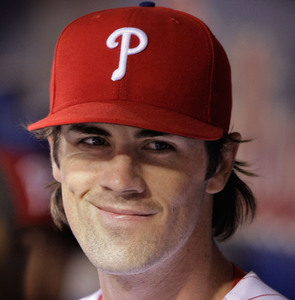 The following quotes are from a
Philly.com article
by Todd Zolecki:
Cole Hamels expressed his utter frustration yesterday that he could not come to an agreement with the team on his 2008 contract. Yesterday, the Phillies renewed his contract for $500,000, which is about $200,000 less than what Hamels had sought.

"It was a low blow," Hamels said. "That will affect down the line certain things that come up. You can't just all of a sudden throw everything out at [a player] at the last second and think that's really going to make him happy, because you still have checkmarks for what [the team] didn't do in the years before. I know what I want to do, and I know what I can do. When it gets in my favor, it will be nice. I did [renew] just because I felt like I wasn't equally compensated. For all the efforts I go out and do, you want to have that sort of respect. And I feel like it wasn't there."
In the article, Zolecki references two great comparisons in New York Yankees righthander Chien-Ming Wang who went 19-6 with a 3.63 ERA in 2006 then was renewed him for $489,500 last year and Tampa Bay lefthander Scott Kazmir who went 10-8 with a 3.24 ERA in 2006 and then was renewed for $424,300. Both players were in their final season before arbitration eligibility.
I love Cole Hamels, but he has to check himself. As if his primadonna
quack-o-practor complaints
last year weren't enough, now he's going to hold a personal grudge against the Phils for what is essentially standard operating procedure in contract renewal. Ridiculous.
He wants "equally compensated," ehh. How about that fat $2 million dollar check the Phils cut him when he was drafted? What was that compensation for, graduating high school? I'd like to see him defend that payday in a production/compensation argument.
And why is there no animosity towards the Players Association? They represent Hamels and their collective bargaining agreements with the league allow for the current compensation structure. Would Hamels favor an NFL type system, which compensates players earlier, but also has a salary cap that limits salaries and non-guaranteed contracts? I doubt it. The MLBPA has a great, player friendly system that is making a lot of people very rich. Heck, Adam Eaton makes almost as much money as Randy Moss.
Fact is, Hamels is unrealistic in his appraisal of his current worth and unjust in his criticism of the Phils. I love to rip on Phillies management as much as the next guy, but it's just not warranted here.
Corey