The Phillies recently released their scheduled promotions and give-a-ways for the 2008 season. The typical Dollar Dog Day, fireworks, magnet scheduleds, etc. are on the calendar, but the Phils spiced it up a little this year with some marketing marvels that should be very popular. Here are a few of WSBGMs favorites.
Charlie Manuel Double-Switch Doll - Inspired by the Transformers action figures, this doll can morph from manager Charlie Manuel into a replica of the Phanatic's ATV. However, just like the real Charlie Manuel, fans will not be able to do the switch successfully. No matter how hard they try, the pieces just don't seem to fit together correctly and they end up with with what looks like1976 AMC Gremlin with 3 missing hubcaps.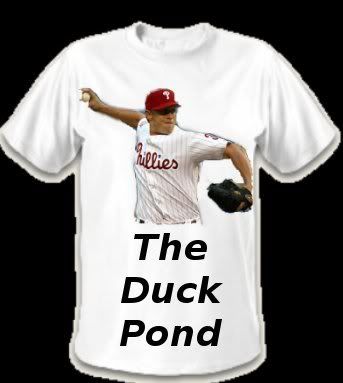 Brandon Duckworth T-shirt Day - These shirts were planned for a 2004 give-a-way, before the Duck was traded to Houston for the Rat. They tried to give the shirts to Goodwill to be distributed to those in need, however many homeless people refused to wear the shirt. So, all fans with a torso will receive at least one of these shirts at a game this summer.
Nunez Beer Day - In honor of Nunez's switch to Milwaukee, the beer brewing capital of the Unites States, the Phillies will offer draft beers for the price of Nunez's batting average on the day of the game. If No-Hit is hitting .235, for instance, all beers will be $2.35. [Note: This game is already sold out.]
Fabio Castro Growth Chart - Originally, 6'1" Chase Utley was scheduled to be on the growth chart, but in order to "go green," the Phils have substituted almost-midget Castro in his place. This change saves almost 200 trees worth of paper.
Rheal Cormier's Preparation H Give-A-Way - All Candadian's 40 and over will receive one autographed tube of Preparation H. And one lucky winner will pick-up a game-used tube from Spring Training '01.
Tom Gordon DL Night - This night, 5 lucky fans will be chosen at random to join Tom Gordon on the Phillies disabled list. Each fan can choose elbow stiffness, shoulder fatigue, back pain or any number of ailments. And they will enjoy all the DL perks, just like Tom Gordon. Prize includes: one day salary plus meal per diem, free entrance to the game with viewing options of 1) bullpen 2) club box or 3) clubhouse TV, along with pre and post game buffett, all without having to contribute anything to the Phillies cause.
Tommorrow, Part 2 of the best promotions of 2008...
Corey