Chris Coste
as an
Ewok
- On superficial viewing, nobody would want the Ewoks on their side. Short-armed midget Endorian furballs with slingshots against the Empires
AT-ST walkers
sounds about as good as a thirty-something lifelong minor league catcher hitting over .300 and contributing to a playoff chase in his first stint in the bigs. Well, I guess both showed they were more than meets the eye.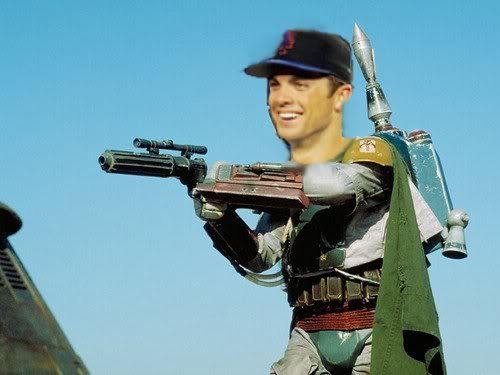 David Wright
as
Boba Fett
- Sometimes you have give props to the bad guys. Boba was cool. He had a cool job (bounty hunter), he had a jet pack that allowed him to fly around and shoot people, and his helmet was decent too. Sometimes I wished Boba was fighting for the Rebel Alliance. Like Boba, Wright is a very good player and I definitely wouldn't mind if he was at the hot corner in Philadelphia. But also like Boba Fett, I wouldn't mind seeing him fall into the mouth of the
Sarlacc.
Phillies Ownership Group
as
Emperor Palpatine
- The Phillies owners were shrewd enough to become very rich and buy a major league baseball team, just as Palpatine fooled the Galactic Republic, destroyed the Jedi except for the strongest one who he got to join his side, and established the powerful Galactic Empire which included a giant starship that can blow up planets. Freaking planets, man. However, he allows his giant planet destroying ship-weapon to be destroyed by a single shot from a rebel fighter. There's a path from the outside of the ship to the exact area in the core that would cause the whole ship to blow up? Then he wastes his time watching Darth and Luke fight while the station controlling the defense shield for his second planet destroying ship-weapon gets taken over by some Ewoks? The all-powerful Darth Sidious couldn't see that coming and intervene? Talk about doing less with more....and there you have Phillies ownership.
Ryan Howard
as
Chewbacca
:
Han Solo
: Let him have it. It's not wise to upset a Wookie.
C-3PO
: But sir, nobody worries about upsetting a droid.
Han Solo
: That's 'cause droids don't pull people's arms out of their sockets when they lose. Wookiees are known to do that.
I bet Ryan Howard could pull someones arm out of its socket. I also bet Chewbacca could hit one into Ashburn Alley...
Corey