A long time ago, in an Internet far far away, there was boredom around the blogosphere. The Hot Stove had cooled and pitchers and catchers were not close to reporting. And one lonely blogger, desperate for readers, set out to entertain at least himself with comparisons between Phillies baseball and Star Wars characters. Today, Episode I.....
Charlie Manuel
as
Yoda
- Yoda was the greatest teacher for young Jedis, just as Charlie Manuel is an accomplished hitting coach. The similarities between light sabers and Louisville sluggers are obvious. And you can't argue with their results; Yoda got Luke to lift a spaceship out of the marsh with his mind while standing on his head and Manuel got Burrell to hit a few balls to right field. I'm more impressed with the latter, to be honest. Also, it's a toss-up for who does less with the English language. "Keep your hands inside the ball you must..." And I know what you're thinking, "Corey, you make fun of Fuqua for his mental ineptitude, but you'll compare him to possibly the wisest character in the series???" Yeah, because Yoda wasn't in charge of the Jedi, he was just a member of the council. You could make the argument he was their hitting coach...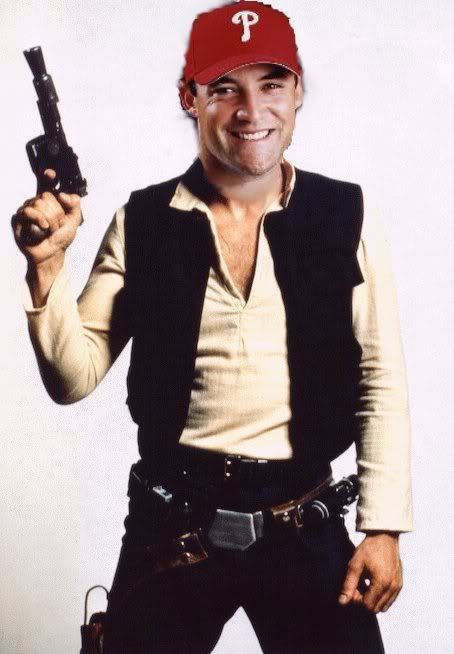 Pat Burrell
as
Han Solo
- Burrell drinks, smokes Marlboros, dips Skoal, and before he got engaged, probably pulled a ridiculous amount of tail. Basically, he's the coolest Phillie. And Han Solo might be the coolest character in Star Wars. He has the fastest ship in the galaxy, smuggles goods for money, hooks up with a princess, and rolls through space with a wookie. Also, when Solo was frozen in carbonite, he had the same home to first time as Burrell.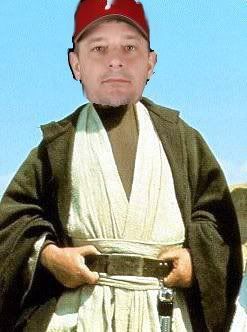 Jamie Moyers
as
Obi-Wan
- I don't think anyone else is equipped to play the part of the wise old mentor. Moyer has Hamels. Kenobi has Skywalker. Moyer looks inconspicuous and non-threatening. Obi-Wan was hermit in Episode III. But we know Master Kenobi can wreck people, and Moyer can paint the corners with Jedi precision. As far as Jedi mind tricks...
[Charlie Manuel bobs his way to the mound to speak to Jamie Moyer.]
Charlie
: Well, Jamie...
Jamie
: [Waves his hand in front of Charlie] You don't want to take me out of this game.
Charlie
: I don't want to take you out of this game.
Jamie
: [Waves his hand in front of Charlie] Go sit down.
Charlie
: I'm gonna go sit down.
[Manuel bobs his way back to the dugout.]
Antonio Alfonseca
as
Jabba the Hut
- They're both fat...end of comparison.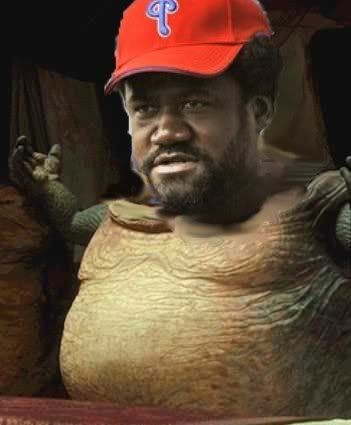 Corey