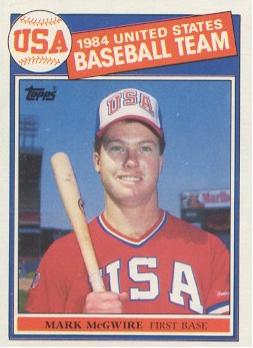 The offseason off-topic trend continues...
In the latest Hall of Fame voting, Mark McGwire, in his second year of eligibility, again came up well short of election.
His HoF resume is solid, however: 12 All Star games, Rookie of the Year award winner, 5 top-10 finishes in the MVP voting, 3 Silver Sluggers, 583 homers, 1400 RBI, and led the league in OBP x 2, Slugging x 4, OPS x 2, HR x 4, RBI, Walks x 2, Runs Created, OPS+ x 4, Intentional Walks, Extra Base Hits, and some other stat-junkie stats (Adjusted Batting Runs, Batting Wins, and Offensive Win%). He is the all-time leader in at-bats per HR at 10.6.
If one would have polled HoF voting writers when McGwire retired in 2001, I would be willing to bet that he would have gotten a "yes" vote from close to 90% of them.
So why isn't Big Mac in the Hall? More critically, did Big Mac take steroids and how has the steroids scandal affected McGwire's image?
Did McGwire take steroids? Yes. In 1998, he admitted to taking the nutritional supplement androstenedione, a precursor to testosterone. At the time, andro was sold at supplement stores (GNC, etc.) and was used by many athletes and non-athletes alike, from pros on the field to joes on the gym. Personally, I knew many guys in high school and college that took the stuff, some on sports teams, others who just liked to lift weights. But I don't know a single one of these guys who considered them to be steroids. While anabolic steroids were illegal since 1990, these "supplements" were not considered to be in this class, and were not added to the list of controlled substances until 2005.
That is the only evidence of McGwire taking steroids. Some will point to Jose Canseco's allegations in his book
Juiced: Wild Times, Rampant 'Roids, Smash Hits & How Baseball Got Big
. And while some of Canseco's allegation have been proven correct or given some increased probability, they are still unproven, unsubstantiated claims. They are no more valid than anybody else's claims of who did and who didn't.
How has the steroids scandal affected McGwire's image? He was hurt big time by his testimony in front of Congress when he said:
Asking me or any other player to answer questions about who took steroids in front of television cameras will not solve the problem. If a player answers 'No,' he simply will not be believed; if he answers 'Yes,' he risks public scorn and endless government investigations.... My lawyers have advised me that I cannot answer these questions without jeopardizing my friends, my family, and myself. I will say, however, that it remains a fact in this country that a man, any man, should be regarded as innocent unless proven guilty...I'm not here to talk about the past. I'm here to be positive about this subject.
My take on these isssus:
1) Steroids - We have no proof that McGwire took any substances that, at the time of use, were either illegal or against the rules of baseball. Compare that with guys like Palmeiro (postive test) or Bonds and Giambi and Pettitte and others (admission to taking drugs illegal since 1990 and known to be performance enhancers.) He's not in that category.
2) Canseco's book - I like Canseco and I think much of the stuff in his book is probably true. In fact, McGwire probably did do illegal anabolic steroids. But like I said before, they are still unsubstantiated accusations. Hall voting should not be based on rumor.
3) Congressional testimony - Would I have liked McGwire to wave his finger and deny steroid use. Sure, but I also respect his right to not say anything. I also know that nothing he said in his testimony was incriminating. I'm not saying he came out smelling like a rose, far from it. But this is going to keep him out fo the Hall? I don't get it.
4) Hall Voting - From my perspective, McGwire is being kept out of the Hall because of suspicion, speculation, and confusion. Nothing is known today that wasn't known back when he was hitting 70 homers a year, yet the same baseball writers that stood in line to kiss his ass then are now lining up to use their Hall voting as a soapbox to prove their newfound ethics and values. Fact is, there is nothing of substance to keep McGwire out of Cooperstown. It's just that no one knows what to do with these Hall-eligible steroid-era players, and Big Mac is going to float in Hall pergatory until they figure it out.
Corey