The Mitchell Report came out yesterday, listing the names of many players associated with performance enhancing drugs. Some names were shocking in their inclusion, others were not. A big shock to me was that ex-Phillie No-Hit Nunez was not on the report, even though he was listed on the horribly inaccurate list that came out hours before the real one. Even still, we all know Nunez was on the juice. I mean, c'mon, you can't hit .234 without a single homerun and be clean. It's impossible. And even if you're not a numbers guy, you can't ignore the picture evidence. Just look below at 'roided-up Philly No-Hit compared to pre-roid Bucco No-Hit.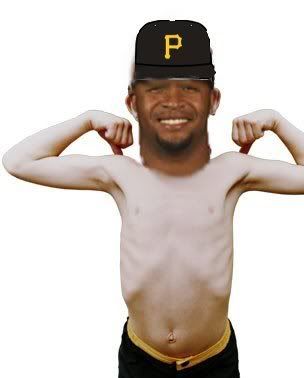 Even though I'm infatuated with the whole thing, I won't spend much time talking about it. I do want to hit some key points though.
1)
Todd Pratt
- Tankhead's inclusion in this report is heartbreaking. It could explain his outbursts of anger and general moodiness, though.
2)
Roger Clemens
- I always knew this guy took it in the butt (I'm referring to drug injections, of course), now we have written details of it. His section of the report is a good read. Juicy (pun intended). Of course, he's denying it, no positive test, etc. Well, Marion Jones and Barry Bonds didn't have a positive test either. To late, Roid-Rocket.
3)
Hall of Fame
- Very interesting discussions come voting time. Lots of people were quick to rule out McGwire, who didn't make it despite more than qualified credentials. Will they do the same for The Rocket? Or is he too much of a Big Apple
White
Golden Boy that carries enough rep and clout to overcome this? Veeeery interesting, to say the least.
4)
Jose Canseco
- Dude gets ripped constantly, only because people are scared to admit he's right. It's easier to kill the messenger than deal with the reality.
5)
Paul LoDuca
- Pedophile. Gamblaholic. Loser-bitch. And now,
Roid-junkie
. Congrats, LoDoucha.
6) Geography - Message to 'roid users: move to the mid-west. Where are the users from the Illinois, Missouri, Texas, Minne-sconsin (c'mon, can you tell them apart?) teams? I know this is just proof that the report is as far from " all inclusive" as Kirstie Alley is "skinny", but mid-west living may have benefits other than cheaper corn.
7) Lenny Dykstra - The only name on the list that I don't believe did any drugs...
8) Phillies, Red Sox- Compared to the other major east and west coast teams (NYM, NYY, LA Dodgers, LA Angels, Bal), the Phils and Sox came out looking pretty good.
9) Players Union - They are now going to try to convince everybody that this is all circumstantial and that the steroid problem isn't that bad. Stay classy, Donnie Fehr.
Corey