Steve Smith - Bad Wine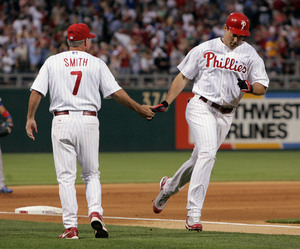 Specifically, a bottle of wine that was given to you by a friend and whether it is a type of wine you don't like or a bottle you've already drank and know is putred, you have absolutely no desire to drink it. You have a few options. One: pinch your nose and chug it. It may be bad, but at least you'll get drunk. Two: re-gift it, ideally to someone you don't like that much, thereby sticking them with the bad wine. The biggest problem with these options is that the person eventually will come over, see the bottle not in your collection, and may ask how it was. You'll end up lying and saying it was great and inevitably you'll receive a second bottle later on down the line, putting you right back at square one. So, you end up going with option three: sitting it in the wine rack and not touching it. Short of decoration, it is essentially useless, but you know that keeping it is much easier than getting rid of it.
The Phillies, after extending the contract of Charlie "MD 20/20" Manuel, brought back the entire coaching staff, including much malaigned third base coach Steve Smith. Last year, Smith was much like his predecessor Bill Dancy in consistently making the wrong decision concerning sending/holding runners from third base. There is no reason I can see that he should be back but somehow he is. My only guess is that it was just easier to keep him around than admit they made another mistake hire. It's just a shame that the Phils have followed a bottle of Dom (Vuk) with a couple of Two Buck Chucks.
Corey