Interesting post over at
mlbtraderumors.com
about the Yankees that has some Phillie implications.
First note their source is that they expect the Yanks to make "eye-popping" offers to Posada and possible Phillie target Mariano Rivera. This really shouldn't be a surprise. Last year NYY paid Roger Clemens about $17 million for a partial season, $11 million for Carl Pavano and about $6 million for Kyle Farnsworth. Basically, the entire Florida Marlins payroll for little to nothing. So why wouldn't they splash $15-16 million for one of the greatest closers in history. Not only do they need a decent closer, after the PR hit of the Joe Torre departure, they can't afford to have two other stalwarts from the good ol' days (i.e. the 90's) go. The Phils have no chance to match what the Yanks can offer.
Take the last part of the above argument and apply it to this rumor too: "the Yanks may make a big play for Aaron Rowand." After Torii Hunter, who isn't coming to New York, Rowand is probably the best OF option, so why wouldn't the Yanks want him? Well, maybe because that would give them 5 OF for 3 spots (Matsui, Damon, Cabrera, Rowand, Abreu.) Unless they decline the option on Abreu (who would you rather have right now, Abreu for $16 mil or Rowand for $12-14?) and trade Cabrera. It makes sense to me.
---------------------------------------
File Under: Steroid Conspiracy
If you're keeping track at home, it now makes two Philadelphia Phillies implicated in HGH use, as
Paul Byrd
follows in the mighty footsteps of David Bell. Apparently, neither player is fond of
testicular shrinkage
.
Byrd, notorious leader of Baseball Church who was on ESPN earlier this week talking about using baseball to spread the message of Christ, apparently found nothing in the Bible about illegal drugs and cheating. Hey, if he asked WWJD and answer is "keep dem nuts big," there's no arguing with the Big Guy.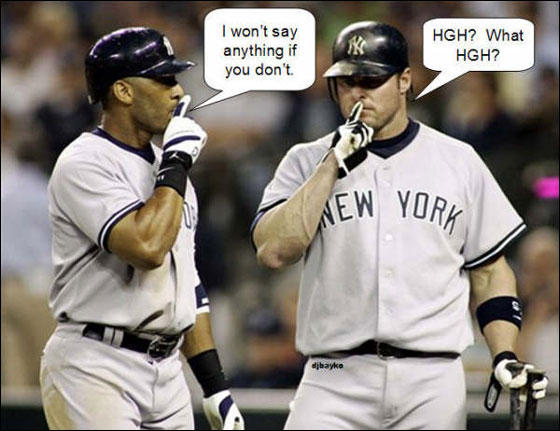 I'm not surprised by any player being accused of using 'roids, I just wish the ones implicated from the Phils would have played better. At least the Yankees had MVP's Giambi and Sheffield. And the Giants had MVP Bonds and ROY Santiago (Phucco!). We have Byrd and Bell? Who's next, Sandoval, Sefcik, Doster, Marsh...?
Corey