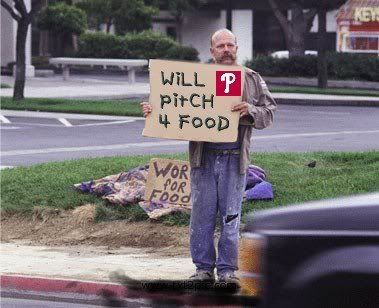 Starting Pitching:
Jon Lieber($7.5mil) and Freddy Garcia ($10 mil) are free agents, as is Kyle Lohse ($4.2.)
Adam Eaton will be in year 2 of his 3 year deal, which may be enough to keep the Phils out of the playoffs until 2010...
Jamie Moyer hit his innings pitched clause, making his 2008 salary $5.5 million if he decides to return. Five and a half million is a lot of cheese to pass up, no matter how fat the mouse is...
Cole Hamels' contract is renewable, he isn't going anywhere soon.
Kyle Kendrick's contract can also be renewed, along with a few others that did or could make a few starts, including JD Durbin, JA Happ, Eude Brito, and John Ennis.
Relief Pitching:
The following relievers are free agents: Jose Mesa, Antonio Alfonseca and JC Romero.
Tom Gordon is signed through next season, and gets a pay cut ($5.5 compared to $7 last year.)
Ryan Madson and Geoff Geary are arbitration eligible.
The team has a $1.5 million option on Julio Mateo, but can go to arbitration of they decline the option.
The contracts of Clay Condrey, Fabio Castro, Anderson Garcia, Yoel Hernandez, Francisco Rosario, Brian Sanches, Matt Smith and Mike Zagurski can be renewed.
Unknown Role:
Brett Myers is signed through '09, and will make a reasonable $8.5 million in '08.
If the season started today, a 12 man staff could look like this:
SP Cole Hamels
SP Brett Myers
SP Kyle Kendrick
SP Jamie Moyer
SP Adam Eaton
RP Tom Gordon
RP Ryan Madson
RP Geoff Geary
RP Yoel Hernandez
RP Francisco Rosario
RP Fabio Castro
RP Mike Zagurski
Wow. Not good enough...
Corey