A recent Yahoo! Sports
article
proposed letting Aaron Rowand walk and using the money to find a respectable third baseman. They listed 5 names: Lowell, Atkins, Blalock, Tejada, and Crede. I'm going to breakdown some of the options and you vote on 1)preferred and 2)most likely.
Mike Lowell
- After a disgustingly bad 2005 season with Florida, Lowell has bounced back with 2 really good years in Boston. An above average glove and solid RH bat would be a perfect fit for the Phils. He made $9 million each of the last two years and probably will be looking for 10-11 per for 2-3 years. In a Jason Stark article back in September, he alluded that Lowell may want to come to Philadelphia. The quote: "But Lowell has sent signals to his friends on the Phillies that, in the words of one of them: 'He would love to play in Philadelphia.'" I respect Stark immensely, but that is at tough quote to rely on. Lowell didn't say he would love to play in Philly, a friend said that after interpreting his "signals." Why don't we just send a note to Lowell, "Will you play for us, check Yes or No."
Garrett Atkins
- .301-25-111 from the third base spot. Nice. And looking closer at his numbers, his power has actually been a little better on the road. His average, on the other hand, hasn't. He hit about 100 points lower on the road in two of the last three years, which is something to worry about. Although, a .275-25-85 from third base for a player who isn't eligible for free agency until 2011 is a nice commodity to have. And because of that, it may be hard to pry him away from the Rockies, especially if they make a deeper playoff run and he plays an important part. Factor everything together, and Atkins is kind of a long shot.
Hank Blalock
- Blalock is signed through '09 at about $6 million per. He has stuggled through injuries to his shoulder, cutting '07 short and making '06 a sub-par year. If healthy, I think you could pencil him in for .270-25-85 at The Cit. Also, he can't hit left handed pitching, making him perfect for a platoon with Helms next year. Due to his contract, injury risk, and the Rangers' need for young, cheap players, he could be had easier than some.
Miguel Tejada
- Tejada makes serious cash, $13 million per year for the next two. Considering his declining skills (lower average, power dropping Abreu-style), it is tough for a developing Baltimore franchise to justify paying that money, even with their great young pitching staff. He also has said that he would move to third base if it meant competing for a championship. He would look good roaming the hot corner and he would be a vast updrade over the crapfest that occupied that spot last year, I'm just not convinced the production he would give the Phils would be worth the trading chips and his salary.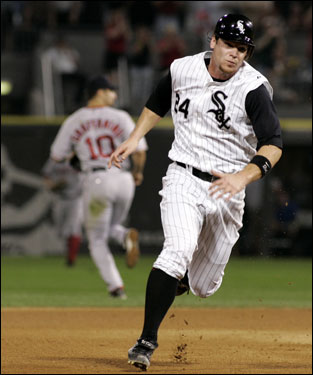 Joe Crede
- Crede is coming off of a horrible, injury-plagued year with a horrible team. And with an arbitration value around $5 million dollars, he seems like someone the White Sox may want to get rid of. He would be a big risk though. He could get back to '06 form (anything close would be great for $5 mil) or he could go the way of Morgan Ensberg. I just hope the Phils don't read mlbtraderumors.com, see their Burrell for Crede idea, and run with it. That would not be good.
Corey