...WSBGM's To Not Care.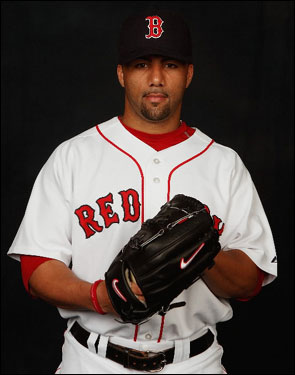 That's not to say I don't want Romero on the '08 Phils, I just don't want him signed to a large, long-term deal.
Here are some key quotes from the
Philadelphia Inquirer
article about Romero's impending free agency.
"We have had some discussions," said Dan Lozano, Romero's agent from the Beverly Hills Sports Council. "But I'm not too optimistic at this point. I'm waiting to hear back from the Phillies."

Last season, relief pitchers such as righthander Justin Speier (four years, $18 million) and lefthander Jamie Walker (three years, $12 million) received considerable contracts. Those could be good indicators when thinking about what Romero could be seeking.
$4 to 4.5 million per year. 3-4 year deals. I'm breaking out in hives just thinking about it.
Romero had a great season with the Phils last year. He posted a 1.24 ERA in 51 appearances for a bullpen desperate for a live arm. Not since Ryan Madson in '04 have the Phils had such a good bullpen surprise. And given the continued need for bullpen arms, most Phillies fans are biting their nails, pacing the floor and popping Tums, concerned Romero may walk, as if the fate of the bullpen depends on him.
I'm just saying, "simmer down now." Sure Romero had a great 2.5 months, but does his body of work justify a long deal?
He'll turn 32 next season and has 6 full seasons in the majors, and here is what we KNOW about Romero.
1. His year to year performance varies tremendously. ERA's of 1.89, 1.92, 3.50 are mixed in with 6.70, 5.00.
2. He walks a lot of batters. Even with the Phils, his K:BB ratio was 31:25. He walked more than he K'd while with Boston.
Other factors to consider.
1) His '07 performance with the Phils was sooooo out of character for Romero. His WHIP of 1.101 was unbelievable, especially compared to prior WHIPS: 1.40, 1.75. 1.56. I get extra nervous when teams sign relievers to big deals based on a single outlying statistical year. I think of '02 Chris Hammond, '01 Steve Karsay, '99 Rich Garces, '05 Kyle Farnsworth...
2) He changed leagues. Few NL batters had seen Romero before, to his advantage. Many pitchers have initial success when changing leagues for this reason, only to have the league "catch up" and the player returns to their expected level of success.
All this being said, it is very early in the negotiation process. Like
bob d
said in the comments last night, "Each team has exclusive negotiations with their own free agents for 2 weeks after the World Series. the negotiations with Romero are just starting, so his agent maybe just playing his hand with the media to get more $$$." We can't read too much into the talk and dollar figures thrown around at this time. Until the deal is done, we just have to think like
siralden
and have unsubstantiated, unrealistic, blind-faith optimism that Pat Gillick will do what is right for this bullpen.
Corey