Yesterday's game: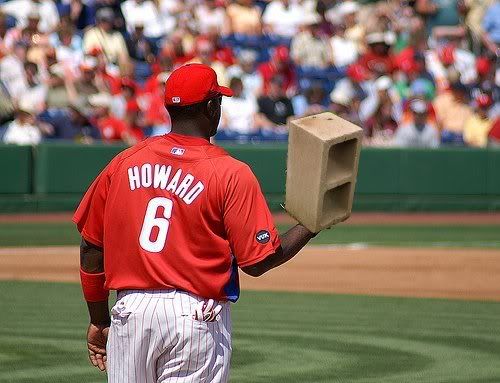 ------------------------------
Today's games:
Jamie Moyer v. Jason Bergmann
- Moyer has only won 2 of his last 8 starts, giving up 5 or more runs in half of those games. He started two this season versus Washington, both in April, both were wins for the Phils. Bergmann has pitched well lately. He's given up 4 runs or less in his last eight starts. Washington has won 4 of his last 5 starts and he has won five straight decisions. He's pitched against the Phils four times this year and hasn't given up more than 5 hits or 3 runs in any of the games. Despite this, the Phils won 3 of the four games. Also three of the four games were decided by 1 run.
Tom Glavine v. Dontrelle Willis
- We all know what Tom Glavine can do. He's been in this situation more than I've been to the bathroom. Willis isn't pitching for anything, and is probably suiting up for the Marlins for the last time. Hopefully for the Phils he can continue his recent performances. In his last two games he's gone 14 innings, 13 strikeouts, and only 5 runs, one being a win over the Muts.
Brett Tomko v. Jeff Suppan
- If the Phils don't win, this game doesn't matter, but if they do, a Brewers win could give them a second chance at the playoffs.
Doug Davis v. Ubaldo Jimenez
- If the Phils win, and the Mets win, and the Padres lose...well, just root for the D-bags and see the copyrighted
ESPN playoff explanation
that I've reprinted below without permission...
Two teams tied
Colorado (88-73) would host New York, Philadelphia or San Diego (89-72) in a tiebreaker; New York would host San Diego; and San Diego would host Philadelphia.
Three teams with same record
In the event New York, Philadelphia and San Diego finish with the same record, New York and Philadelphia would play a tiebreaker Monday at Philadelphia for the division title. The loser of that game would then play a wild-card tiebreaker Tuesday against San Diego.
Four teams with same record
If Colorado, New York and Philadelphia win Sunday and San Diego loses, all would finish 89-73. New York and Philadelphia would play the NL East tiebreaker Monday; the loser would play a three-team, two-day, wild-card tiebreaker with Colorado and San Diego on Tuesday and Wednesday. In that scenario, Colorado (the team with the best head-to-head record among the three teams in the wild-card tiebreaker) would get the choice of having a bye on Tuesday or playing both games at home.
-------------------------
We've all sat through 161 agonizing, gut-wrenching games, waiting to see if the Phils could make the playoffs. Well, no need to wait any longer because the playoffs start today. Everybody needs to be in front of their TV today at 1:35 EST, Phillies gear on, rally towel in hand, praying to God or Tom Cruise or a goat or anything else you think could help the Phillies beat the Nationals.
Go Phillies!
Corey