For some reason, I've been thinking a lot about bad pitching. Poor rotations. Flammable bullpens. And with the Phils traveling to Queens to take on the Mets tonight, one name jumped into my head: Turk Wendell.
In an effort to solidify their bullpen for a playoff run in '01, the Phils traded Bruce Chen to the Mets for Wendell and Dennis Cook.
Wendell, famous for wearing a necklace of animal teeth and
other eccentricities
, had posted a 3.51 ERA for the Mets before the trade. With the Phillies, however, Wendell was absolutely atrocious, giving up 21 hits and 13 runs in 15+ innings. He was 0-2, and the Phils lost the NL East by 2 games.
It was suspected from the start that Wendell was injured. He spent the entire next year on the disabled list...
--------------------------
What the September?
It's bad enough I have to sit through Phillie collapses every stinking year. Now I'm stricken with some sort of punk rock curse.
Last September, I went to see one of my favorite new bands, Left Alone, at a little venue outside of Harrisburg. Unfortunately, a
broken exhaust system ended the show
before they they played. This September, one of my other favorite bands,
Sixer
, who haven't put out an album in 5 years or toured in 3, are back on the road. And one of there stops is Harrisburg. On a night I don't have to work. For only 7 bucks. Awesome! And then...the bass player has a freaking stroke a week and half before the show. End of tour. End of playoff hopes. Freaking September.
-------------------------
Props to Gas Gan and the bullpen last night. Looks like the blind squirrel found a nut. And it's about time, I've been waiting for 2 months for Geary to do something that didn't totally suck so I could post this "Spinal Tap" pic of him, Utley and Howard. It's even better that the offense went to 11...and then 12.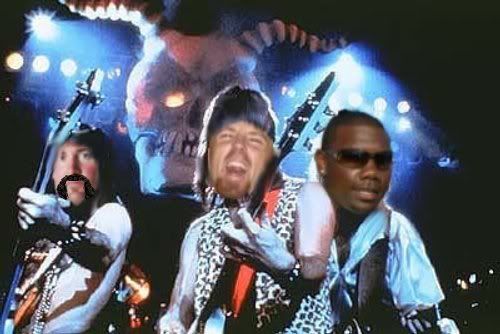 -------------------------
The Good
- Only 1.5 back of San Diego, tied with LA...and Cole Hamels may be back next week.
The Bad
- First-place and red-hot (9 of 11) Mets are up next. Sure we swept them last time, but lightning rarely strikes twice, and we don't have Zeus pitching, we have Kyle Lohse and Adam Eaton.
The Ugly
- JD Durbin. ERA over 6, hasn't gotten past the 4th in his last 3. Eaton-like.
Corey