We've gone from
"Bohemian Manuel"
to "We Are The Champions." Hey, nothing says victory like a gay man in his underwear prancing around and singing....
-------------------------------
Some d-bag made this video in a jubilant, drunken stupor. Enjoy.
-------------------------------
Here are the last three outs.
-------------------------------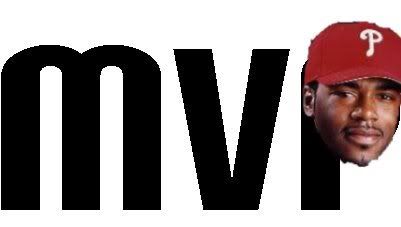 Random Observations...
The smallest guy on the team, 5'7" Jimmy Rollins WILL win the NL MVP. Apparently they were the team to beat...MVP!MVP!MVP!
Career minor league player Chris Coste catches the called third strike for the final out that clinched the NL East title. From Reading to riches...
During the post-game celebration, my wife compared Charlie Manuel to "that big retard from
'Of Mice And Men.'
" Do I have to change my opinion of Manuel now that they won the East? Ummm, no. I still think he sucks, but 20 years from now (or when he is finally fired) I will look back at him fondly with a jaded view, which is okay.
After the final out, Burrell came sprinting out of the dugout with Bourn-like velocity. I couldn't imagine him running that fast towards a group of males before yesterday.
Everybody is pouring champagne/beer on each other, yet Burrell is standing on the infield grass drinking it. That is why he's my favorite player...
I think El Pulpo went into labor during all the excitement...and props to old 12-Finger for bringing out the hose to spray the fans.
CW57 followed the game with 'The Tim McCarver Show." Like a cold shower, the excitement is calmed...
-------------------------------
What's Next
Home playoff game versus the winner of the San Diego/Colorado Wild Card tie-breaker. WSBGM's will be at the game. More on this later, for now....CELEBRATE!!!!! Wait, did somebody say playoffs????
Corey