In both the first and third games in this series with Atlanta, the Braves jumped out in the top of the first with runs and it appeared as if it was going to be a long night. And both times the starter settled in (Hamels, Moyer) and the Phils were able to come back and notch victories. This usually doesn't happen for the Phightins, especially against the Braves.
I thought Moyer was done in the first, but the old man still has some fight in him. My only problem with Moyer was his hair (see picture above.) Dude needs a trim. What is with the "upwardly mobile" hairs that seem to be running away from his ears? When hairs on the side of your head grow vertically you end up looking like either
Wolverine
or that dude from
Flock of Seagulls.
Either way, not the best of looks.
----------------------------------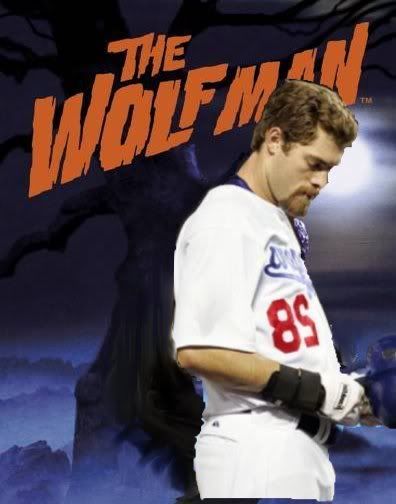 Werthless
Jayson Werth did have a run scoring hit last night, so I can't rip him too bad, but what was up with that pitiful effort to score on Nunez's hit in the fourth inning. He should have rolled the catcher, at minimum a hard slide into home. A Baryshnikov toe-tap around Brian McCann should not have been on his list of options. Stopping short of home and discussing the pros and cons of tagging him out would have been equally successful and far less....well, David Bell-like. And since I'm talking about Werth and I've mentioned a player's hair already once tonight, have you seen this guy with his helmet/hat off? Is that a perm? Whatever it is, it's scary. And when he grows his facial hair out and combines it with that overgrown hedge on his melon, he looks like the freaking wolfman.
---------------------------------
Wild Card
The win keeps the Phils one game behind San Diego. They need at least 4 of the 6 road games against Washington and Pittsburgh, because they come home to LA, SD and NYM. Ouch.
---------------------------------
Enjoy the off day!
Corey